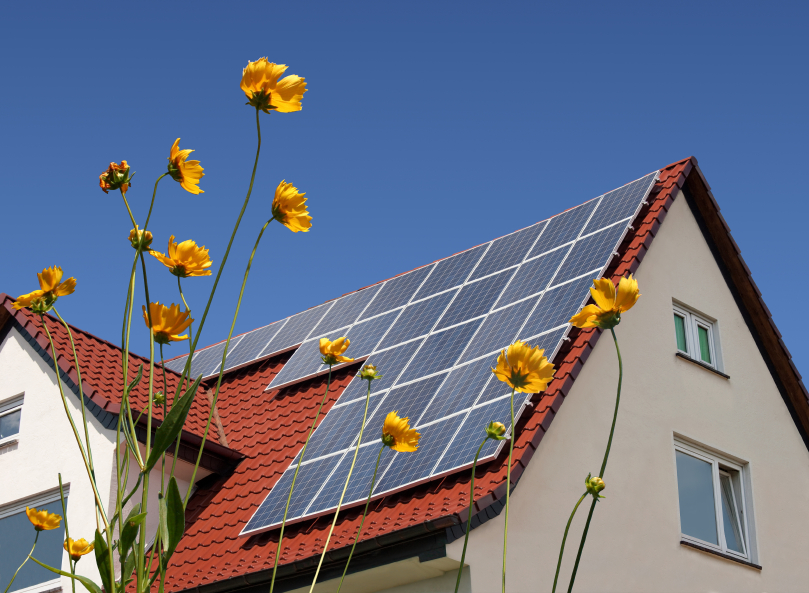 Not even 10 years ago, a home with solar panels was a relatively rare sight. But recently an uptick in local and federal incentives as well as some advances in the technology has made them more popular than ever. This is why homeowners of all types are now looking to these panels as the next major investment in their home, though some are still unsure about the basics of clean energy, how these systems work, and what advantages they will provide a family.
Primary Components of a Solar Panel System
A solar panel setup, also referred to as a photovoltaic (PV) system, has only a few primary components. The PV cells, which are typically found on the roof of a home but can also be attached to stands, collect sunlight and convert it into electricity. This electricity then goes through an inverter in order to make it usable energy. At this point, the energy will then either go directly into the home to power electronics and appliances, be stored in an onsite battery, or be sent back to the main power grid. The final location of the electricity will alter the cost of the system and any energy sent back to the power grid is sold back at a retail price.
Beginning the Process
There is quite a bit of industry jargon to wade through when first on the search for a solar panel specialist, but there are only a few important things to keep in mind. First, the homeowners will want to check with a specialist in order to inspect the home and give a clear estimate on how much energy the panels will produce and what this will mean in real world dollars saved. It is also important to ensure that the manufacturer of the system is located within the country and the installers are local. This means that all warranties and guarantees will be honored no matter what takes place.
The Benefits of a Home PV System
The primary benefit is going to be seen when the first energy bill comes in which can be reduced dramatically each and every month. A well-developed solar panel array is also going to add value to a home as more home buyers are conscientious of the environment and their own energy bills. A PV system with a long-term warranty can dramatically improve the value of a home and is often a key selling point depending on the location. Finally, homeowners can rest assured that they are doing something good for the local and global environment, often decreasing their carbon footprint by as much as 35,180 pounds of carbon dioxide per year.
A special thank you to Guest Blogger Tim Smith who writes for Modernize, a website dedicated to helping homeowners build and maintain the home of their dreams. Prior to becoming a writer, Tim worked as a contractor. In his free time, Tim enjoys traveling and spending time with his 3 kids!