This year I decided to put up a small artificial tree in the hope that my six-month old kittens would not find it too interesting. At first, they posed under the tree looking sweet and innocent.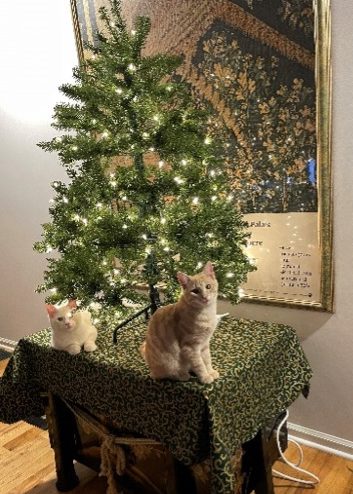 A few minutes later, Clancy decided to take a closer look at the lightbulbs and started to chew on one of them. Definitely not a good thing! An electrical wire can deliver a potentially lethal shock and the shards of glass from a broken light bulb can damage a pet's mouth and digestive tract.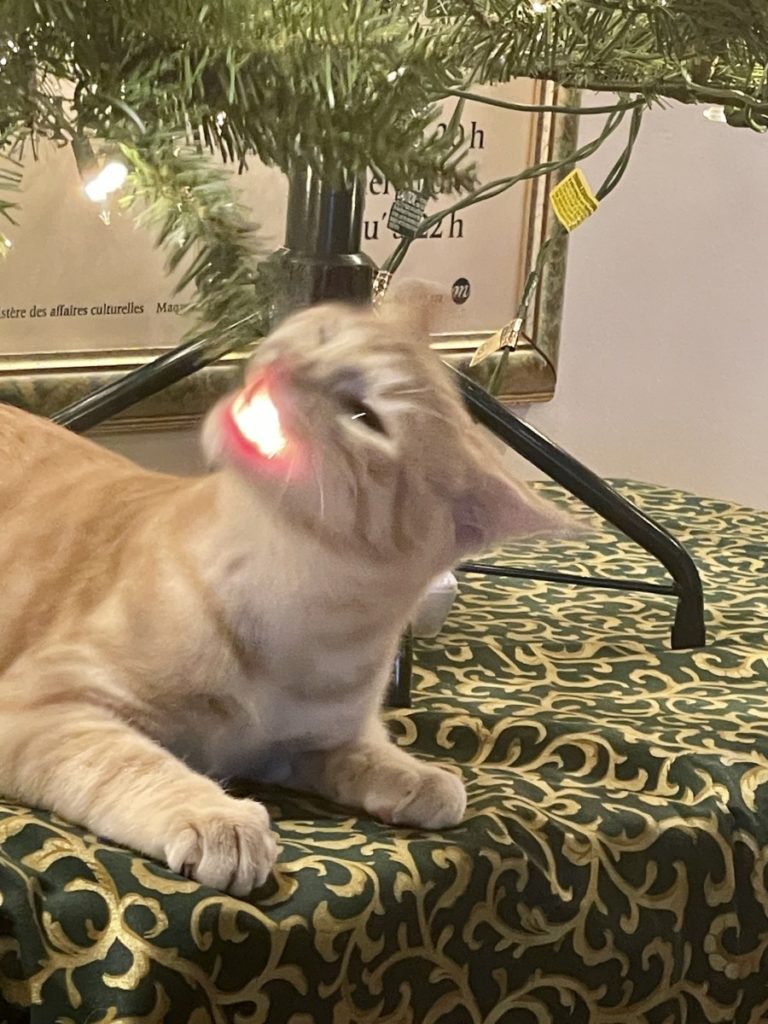 Thankfully he didn't do any damage to himself (or the tree). For the next few days he left the tree alone, but then decided to do some climbing, which is a very normal cat thing to do. The tree is now back in the box until next year when hopefully they will have grown up a bit.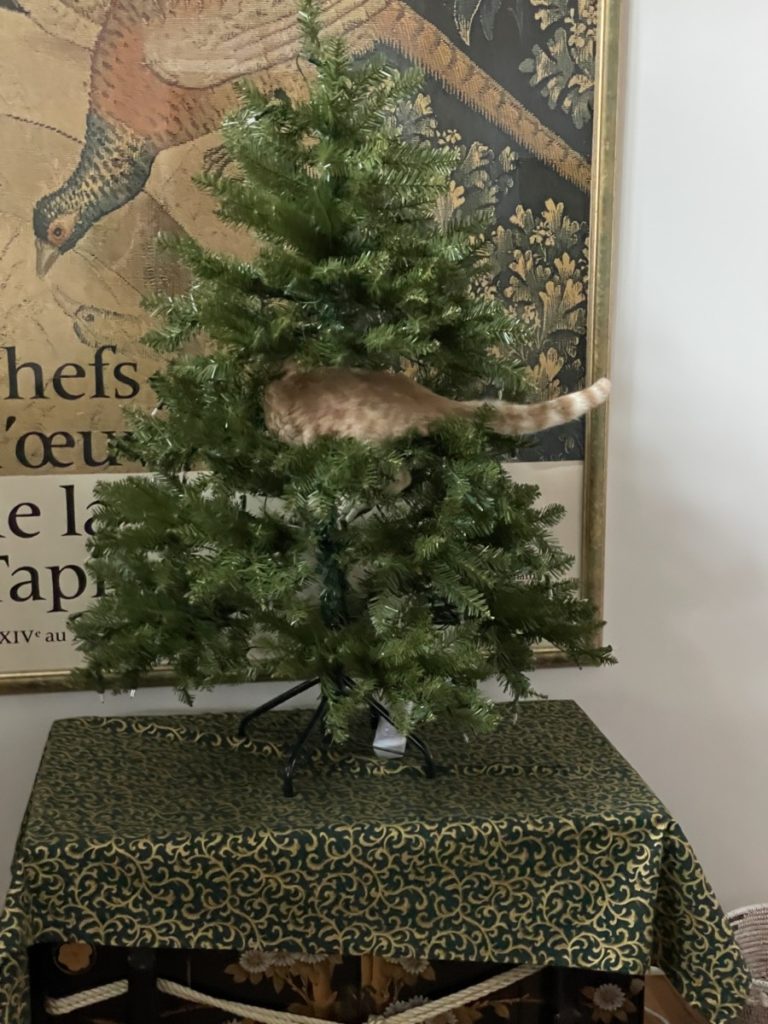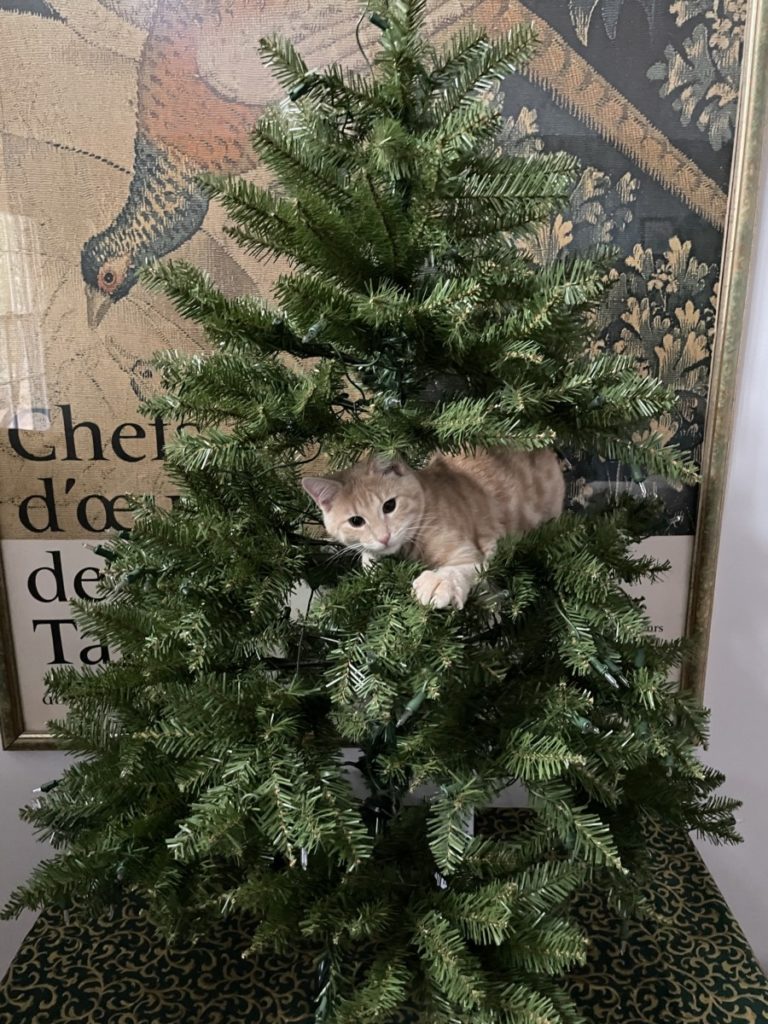 This is the time of year to be extra careful. Below are some tips to help keep your pets safe during the holidays.
Anchor the tree securely to keep it from tipping over when pets are playing. There are many suggestions for deterring your cat from climbing the tree. They include things like hanging a lemon-scented air freshener on a branch, spraying the tree with a citrus or bitter scent, and even wrapping the base of the tree with aluminum foil. Supposedly, cats don't like the sound foil makes or the feel on their feet. I tried this with the kittens and they just played with it. Every pet has it's own unique personality.
Water fresh trees regularly to keep them from drying out and dropping pine needles, which can be harmful for pets. Make sure the water container is covered to prevent pets from drinking out of it. Tree water may contain fertilizer or bacteria, both of which can make your pet sick.
Decorations around the bottom of the tree should be non-breakable, and don't add tinsel if you have a cat, since they enjoy sparkly things.
Extension cords and lights should be kept away from pets. Check the cords regularly for signs of chewing.
Batteries when chewed, punctured, or swallowed can be very dangerous for pets. Be sure to keep them away from pets.
Candles should be out of reach. Never leave a room with a burning candle unattended.
Holiday Plants Holiday Plants like holly, mistletoe, amaryllis, and poinsettias may make your pet ill; however, not all pets are attracted to plants. If your pet enjoys munching on plants, then be sure to keep them out of their reach, or don't bring them into your home.
Sweets are plentiful but should not be shared with pets. Remember, don't set packages with food in them under the tree. That is too much temptation for a pet.
As pets age, they usually stop chewing on lights, and climbing the tree; however, they may still be fascinated by these things My previous cat Ivan stopped climbing the tree, but always enjoyed watching the lights and laying under the tree. Happy Holidays!