Willie Chance is a retired county agent who has done a great job organizing classes where all types of commercial pesticide license can receive certification hours. There is a class next week in Valdosta if you are in need of some hard to get credit hours.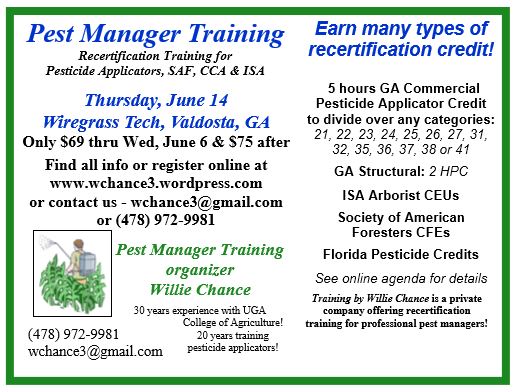 Need Recertification credits? Register today to earn them at the Pest Manager Training Thursday, June 14 at Wiregrass Technical College in Valdosta, GA!
You can earn many types of credits at just one training!
5 hours Commercial Pesticide Credit – Any category 21, 22, 23, 24, 25, 26, 27, 31, 32, 35, 36, 37, 38, or 41
ISA Arborist CEUs – Certified Arborist: 4, Municipal Specialist: 3, BCMA – Science:2, BCMA – Practice:1 BCMA – Management:1, Climber:1, Aerial Lift: 1
5 CFEs Society of American Foresters
Certified Crop Advisors – S&W 0.5, IPM 3, CM 1.5
Florida Pesticide Applicator
Georgia Structural Credits – 2 hours HPC
Register before Wednesday, June 6 and the fee is just $69. Afterward the cost is $75.
Register now one of two ways. It's easy to do!
Register online at https://valdostapmt.eventbrite.com/
Print the attached registration form and mail it in. You can also find an agenda and other info online at www.wchance3.wordpress.com
Speakers include:
Scott Wanzor, PBI Gordon
Karan Rawlins, UGA Center for Invasive Species & Ecosystem Health
Willie Chance, UGA College of Agriculture retiree and pest manager trainer
Dr. James McCrimmon, ABAC Environmental Horticulture
Lunch & breaks sponsored by FIS Outdoor Inc., Contact Brian McIntire, (352) 258-3000 or brian.mcintire@fisoutdoor.com
For more information on the Pest Manager Training, contact Willie Chance – wchance3@gmail.com or (478) 972-9981 or visit https://valdostapmt.eventbrite.com