We've planted as much as 60 percent of cotton and as much as just st starting. We might have a little more out there. Our oldest is 5 true leaves. We've been having about 17 DD 60s a day until this rain. Based on the numbers, that puts us squaring about June 5th. We've actually looked at some replant decisions and found that lots of cotton is just now coming up where it wasn't before. These seed were likely planted above the moisture (that was lacking last week), and with new moisture it is now coming up.
For dryland cotton, we can only plant as shallow as possible and would be ideal if we let the soil crust, then plant (if possible.)
Replant Decisions
It's not always easy to decide to replant. We gotta think about the cost of seed and cost per acre, as well as pre-emergent herbicides. UGA Extension Cotton Agronomist Dr. Jared Whitaker says if we are in a replant situation, we need to start with an actual stand count. After that, the main thing is how many 3 foot skips we have. Remember how much cotton can compensate. Below is a chard Dr. Whitaker shared that is very helpful in determining replants.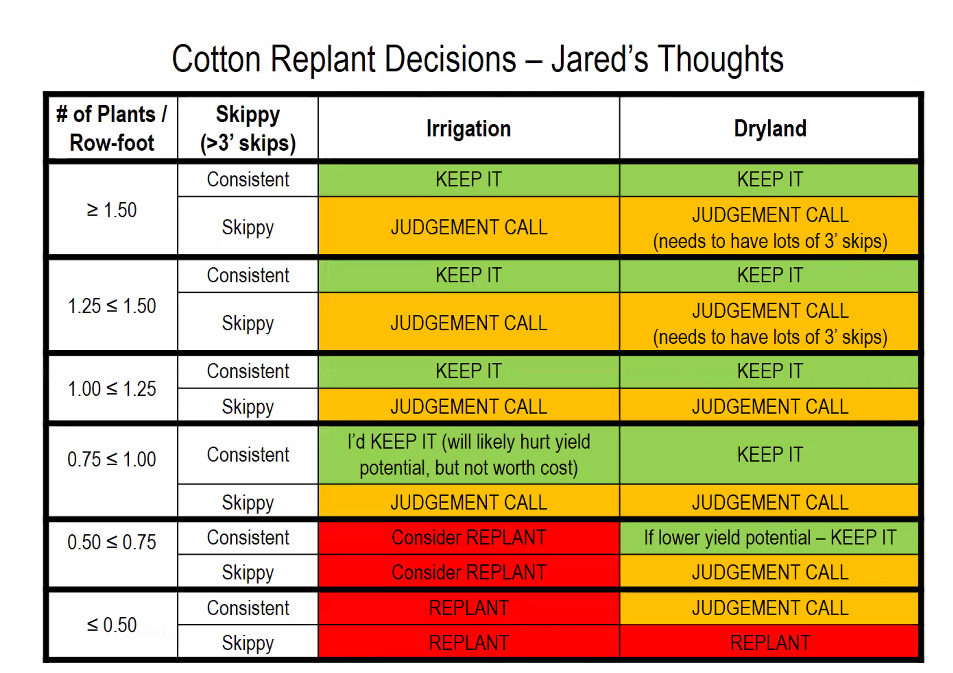 Should we consider early vs. late maturing varieties if we plant this late?
The best way to answer this question is that early maturing varieties do better when planted later, compared to other varieties BUT the best varieties are the best varieties within our planting window.
When do we need to be finished planting cotton?
We need to be finished planting cotton by the first week of June. That may not be the case this year with the rain coming, but in general, this is where our yields decline: