On this day (April 17th) last year, UGA researchers started planting their plots in Tifton. As a matter of fact, many were  planting in GA. Many growers are on 'go' now and ready to start, but we're seeing lots of daily fluctuation in our soil temperature. This is NOT good for peanuts.
The standard UGA recommendation for planting peanuts is when the AVERAGE DAILY soil temperature is 68 degrees for 3 STRAIGHT DAYS with a WARMING TREND following.
The reason we need that consistent soil temperature is that large fluctuations  'shock' peanut seedlings in the soil. It generally takes a week for seeds to emerge this time of year, and it's hard to forecast weather further than a week as well. So we need to look closely at soil temperatures. This can lead to serious emergence issues.
At 3:00 today, the soil temperature at the 2" depth in Vienna was 78.9 F. That is very high for night time temperatures in the low 50s.
Visit the Georgia Weather Station to check soil temperatures. Remember, it's not the 'current' but the 'daily average.'
We're coming out of this cold front now, and that alone is enough for us to put on the brakes. It's supposed to hit 87 tomorrow which will really warm up our soils. But look at the high  again for Monday: 66. Thursday and Friday lows are in the upper 40s. This is what is risky for peanuts.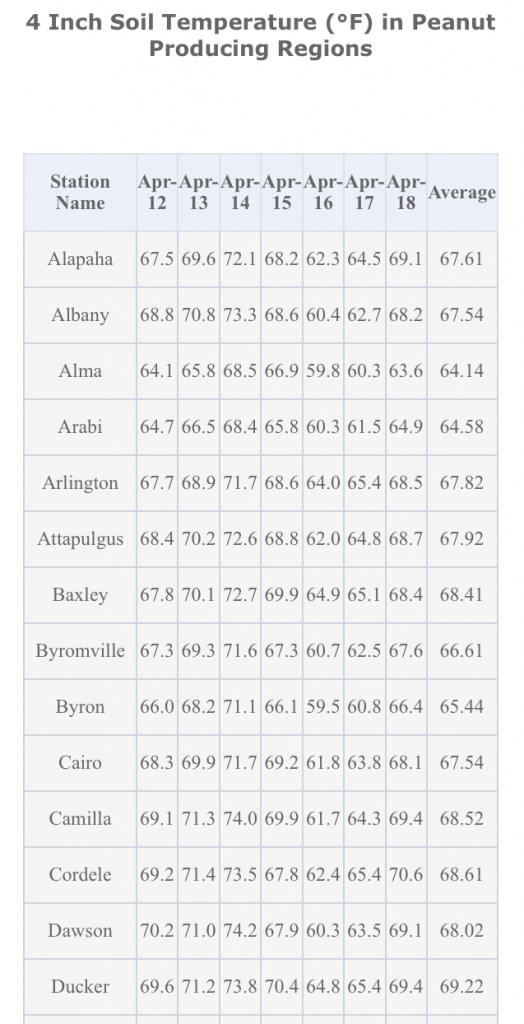 UGA Extension Agronomist Dr. Scott Tubbs reminds us that when we hit 40s at night, this really affects our soil temperature and puts us back into a fluctuation.