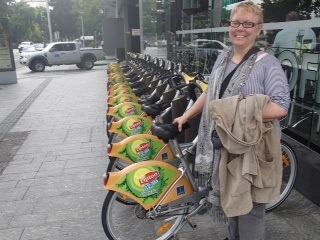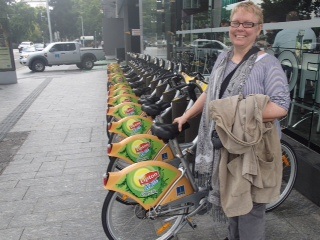 "CityCycle is an initiative of the Brisbane City Council to introduce a new form of environmentally friendly personal transport similar in style to European bike hire systems like Vélib' in Paris and Sevici in Seville.
Within 3 km of the city centre 2000 bicycles will be available to pick up and drop off at any of the 150 stations scattered no more than 300m apart in West End, New Farm, Coronation Drive, St Lucia and the City.
Linking to bike friendly roads and paths the bikes will be available for everyone over 17 years of age for a annual fee of $60.50, $27.50 a quarter or $11/day for casual users.  Short trips of under 30 minutes are free of any other fees during operating hours.
* Longer hires are approximately going to be, two to three hour hire will cost $18 and a 10 to 24 hour hire will be $150.
Construction of stage two stations will continue into 2011 and will include stations located in Milton, Toowong and St Lucia.
Other Australian cities are watching to see how the introduction of City Cycle progresses with intentions of considering similar systems for Sydney, Melbourne and Perth."