It's hard to believe we're already talking about pulling the triggers on peanuts in the county. It does seem early, but believe it or not, soil temperatures from the Florida line up to Fort Valley were between 64.2 and 69.8 degrees last week! Of course, they will drop this week with the cooler weather.
That being said, UGA Extension Climatologist says looking at the long-range weather models indicates the southern 2/3 of Georgia looks frost-free for the rest of the spring. This is big news in that normally we have our eyes on the date of Easter and potential of late frost. With Easter being later this year, and frost outlook good, UGA Extension Agronomist Dr. Scott Monfort and Dr. Scott Tubbs believe anticipate the earliest optimum planting conditions starting around April 10-13 depending on quantity of rainfall received and soil moisture conditions in fields. This is similar to what I'm hearing in Wilcox County with things ramping up about the week of April 15 unless there are serious forecast changes.
Below are a few planting pointers from Dr. Monfort and Dr. Tubbs as we move forward:
Planting High Quality Seed (Germ and Vigor).  Seed quality is important in 2019.  Find out the % germ of peanut seed that has been purchased.
Planting in Good Moisture and Temperature allowing the seed the best opportunity to germinate and emerge quickly.
Planting peanuts at the Correct Depth of at least 1.5" deep. Planting shallower can increase risk of Valor injury along with germination issues, if soil dries out too quick.
Applying Valor no later than 2 days after planting. The risk of Valor injury goes up significantly the closer Valor is applied to peanut emergence.
Irrigating as soon as possible behind the Valor application to activate herbicide and reduce injury.  Valor injury can still occur after a hard rain during cracking and emergence even though a field was irrigated after application.
NOT irrigating during cracking and emergence unless the fields are hot and dry and need irrigation to ensure a good stand.  Typically, the lack of moisture can result in more stand loss than the loss from Valor injury.
Thrips Management
If there is anything else I would consider when planting on the early side is management of thrips. For peanuts, thrips vector tomato spotted wilt virus. Many insecticides are labeled and will kill thrips, but only Phorate (Thimet) has been shown to reduce incidence of TSWV.
Just to take a look, I went the Thrips Infestation Predictor Model which was designed for cotton growers. I selected April 15th as planting date and also Pineview. This model looks at the past years of data and other things to give us an idea of the risk of thrips at that date. Dark green is less risk and red is more risk. The way you read it is to compare each date with the previous year. A RED 1 is the highest thrips risk. So, on April 15, 2018, the risk was 0.71, and compared to 2019, it is 0.12. This means whatever thrips were last year on that date, they will be less risk on the same date this year. (The past two years have no been bad with thrips.)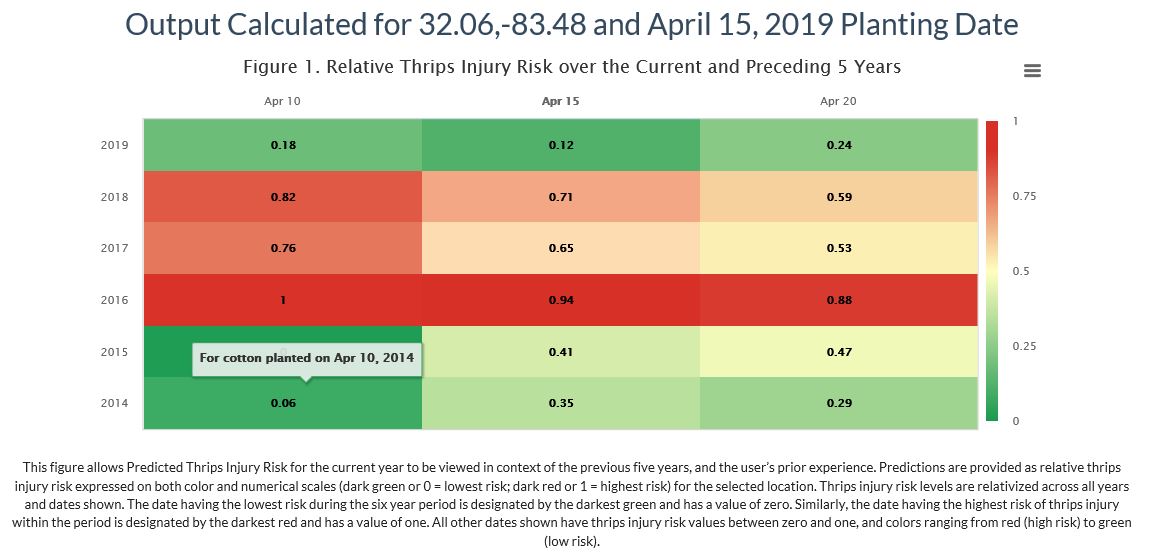 The next model shows the risk of each date from April to May. You can see how we get to about May 10th and risk of thrips injury drops to full green. As you move further Northeast, the red bars are shifted to the right. Early planting in the SW is more risky.