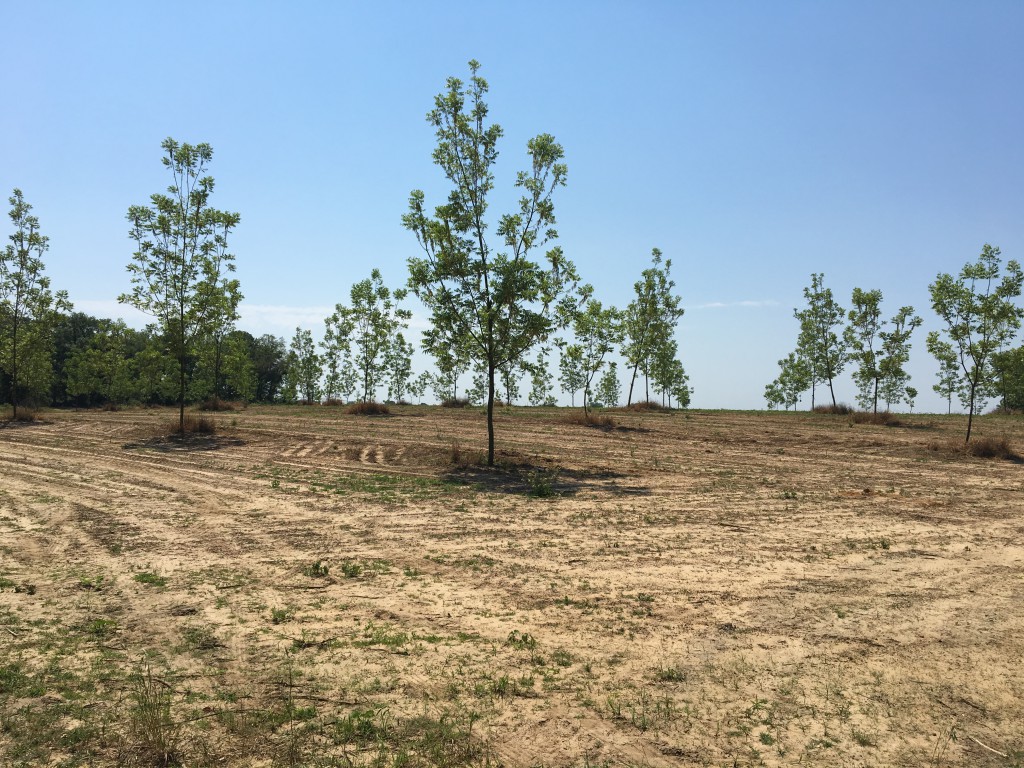 Here are some 7 or 8 year old Sumner trees that were spaded from another orchard back in February. Other than no grass between trees, you wouldn't know they were moved. The leaves are out and the trees are looking great. This puts them into their wider spacing.
A lot of talk about the future pecan prices after the recent tariffs by China. Here is a summary from UGA Extension Economist Dr. Greg Fonsah:
In 2016, Georgia's food and fiber production and related industries represented $73.3 billion in output and contributed to more than 383,600 jobs (Center for Agribusiness and Economic Development, 2017). Georgia agriculture produces many of the items targeted by Chinese tariffs including nuts, fruits, soybean, corn, wheat, sorghum, cotton, pork, beef, and tobacco. The Chinese retaliatory trade tariff on United States origin products would have a negative impact on Georgia's agriculture and economy. However, the magnitude of the impact of these new tariffs on Georgia's agricultural industry is unclear. Some industries, like the pecan industry, will be impacted more than others.
China implemented a fifteen percent increase in import tariffs on United States origin fruit and nuts. In the past few years, Georgia pecans, one of many nuts grown in the state, became a novelty for the Chinese market, especially due to the health benefits of the crop and the fact that prices for walnuts escalated exponentially in 2007 to an unbearable level.  Pecan exports to China increased by 64% in the same time period. The United States produces 80% of the world's pecan and Georgia remains the number one producer of pecans with a record 50-70% exported to China for almost a decade. The high demand for pecans has also triggered a market distortion from the traditional distribution channel (grower-processor-consumer), to direct marketing and sales. Chinese buyers are willing to pay a proportion of pecan crops up front and pay the rest at or after delivery. This Chinese business model has provided a cushion and an additional safety buffer to United States pecan growers. An additional 15 percent tariff on nuts and fruits will be a major impact especially to the Georgia Pecan Industry and will definitely reduce the quantity exported to China. That would in turn increase domestic quantities. With the large pecan production and acreage expansion going on, the domestic market might be flooded and eventually dampen prices, if the 15 percent tariff on nuts and fruits is implemented and the trade dispute is not resolved. Note that although the overall U.S. agricultural trade have continuously enjoyed positive balances, the U.S. horticulture trade balances (fruits, vegetable and the green industry) have been negative for the past decade. In 2014, the U.S. imported $40.5 billion and exported $22.5 billion with a negative horticultural trade deficit of $18 billion (Fonsah, 2016; 2017).
On the brighter side, the trade disputes between the United States and China might help hasten the North American Free Trade Agreement (NAFTA) to come up with amicable solutions to the parties involved. Presently, the Georgia Fruits and Vegetable Industry (excluding Pecans) may not suffer any negative impact of the Chinese tariffs, because most of our fruits and vegetables are shipped domestically or between the NAFTA countries, such as Canada and Mexico.