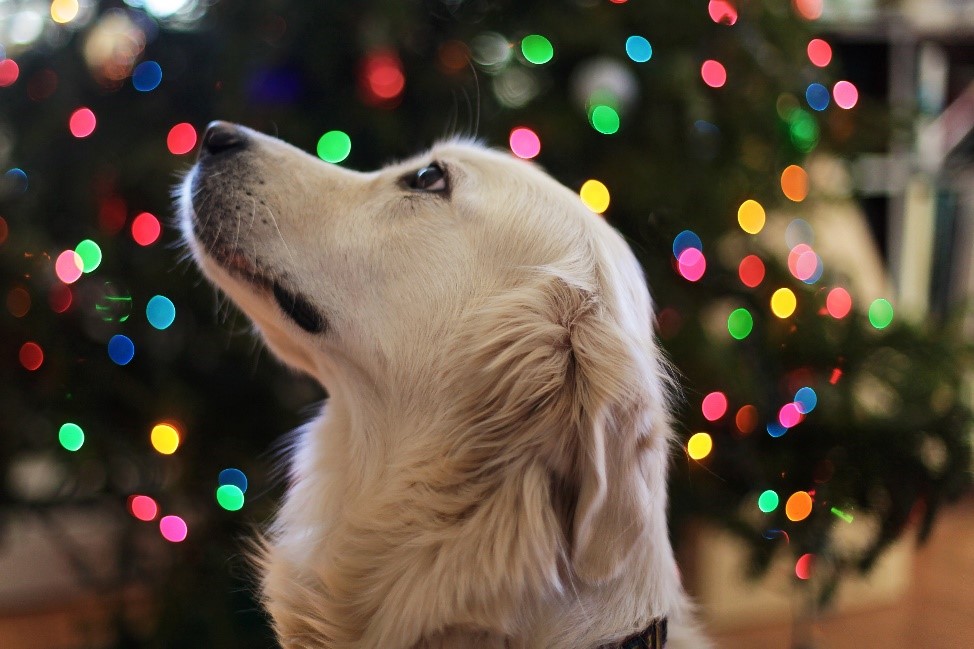 The holiday season is a joyous time to gather with family and friends. It can also be a busy time of gift shopping, preparing your infamous green bean casserole, or hosting extended family and friends. With the hustle and bustle of the holiday season, your pets, who many times are part of the family, may be unintentionally forgotten. By keeping your furry friends (or family) in mind during the holidays, you can avoid hazards that could cause harm to your pet.
Whether you are traveling across the country, or enjoying the holidays at home, here are four tips to keep your pets safe during the holidays.
Keep toxic foods and plants away from your pets. These include mistletoe, poinsettias, holly, chocolate, onions, grapes, macadamia nuts, yeast dough, alcohol, and xylitol – an ingredient found in gum, candy and baked goods. They can cause vomiting, diarrhea and in high doses, death.
Trees need to be securely anchored to a base to prevent them from falling onto your pet or spilling water. The water may contain fertilizer and/or bacteria that can cause stomach upset if ingested.
Holiday decorations easily catch the eye of your pets. Some pets may see your holiday decor as toys they can chew on, eat, or play with. Keep lights, candles, tinsel, wires, batteries, and glass or plastic ornaments out of your pet's reach. If ingested, these can cause burns and/or damage to your pet's digestive tract.
Hosting guests this year? Plan with your pet in mind. Set house rules for your guests if they choose to interact with your pet. Give your pet a room or "safe" space to relax while you have company. The same goes for fireworks or any noise-causing devices, which can scare or damage the ears of your pets.
These proactive tips are not foolproof, because things happen. Always contact your local veterinarian if you suspect your pet has put themselves in a harmful situation.
Wishing you and your pets safe and happy holidays!
Guest Blog written by: Candace Tucker, University of Georgia Extension Agent, Coweta County, Georgia. Article reprinted from the December 2019 Healthy Indoor Environments Newsletter