Is your cat watching the warm air in your home leak out around the front door? This infrared photo shows air leakage around the front door of my home. Does this look like your house?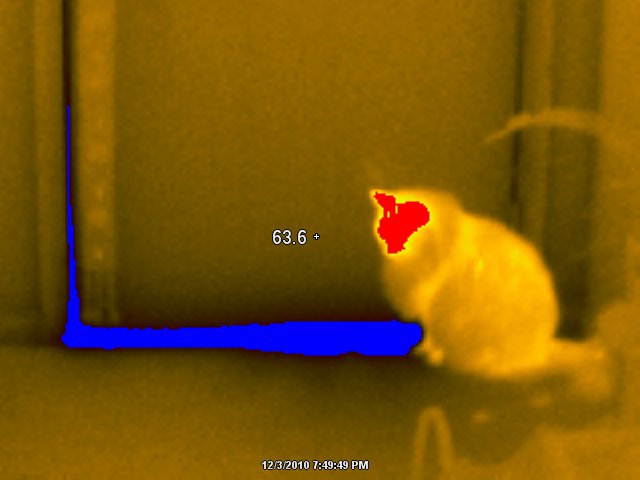 You don't need an infrared camera to check to see if you have air leaking around your doors and windows. Use a lit stick of incense, or a smoke or wizard stick. Hold the stick near the door frame or windows. If the smoke moves then you have a leak. Other areas of your home where you will often find air leaks are:
– Electrical outlets and switch plates
– Attic doors
– Around wires, cables and plumbing lines entering the home
Once you find the leak you need to take action. Reducing drafts in your home can decrease your energy use by 5 to 30 percent and that means more money in your pocket!
There are low cost things you can do that offer a quick return on your investment.
Apply weatherstripping around windows and doors. Weatherstripping is made from materials like felt, foam or rubber and there are lots of different types to choose from. The Department of Energy has a helpful guide for choosing weatherstripping.
Caulk around wiring and piping coming into your home. Caulk is a type of material that is used to fill in gaps and cracks. There are many types of caulking, so select the one that is right for the job.
Seal air leaks around outlets and switch plates by add foam insulation gaskets behind the plates.
For large gaps around windows, baseboards and other openings, use a foam sealant. One study reported that the payback is from 2-9 months and the return on investment (ROI) on a spray foam sealant ranges from 145% to 2,370%.
Add a "draft dodger." If you have areas of your home that you don't regularly heat in the cold winter months, you may consider putting a "draft dodger" along the door to decrease cold drafts from that room. This is a snake-like piece of fabric that sits against the bottom of the door to block any air that might leak under the door. Stores sell draft dodgers, or they can be made easily enough with a rolled-up blanket or towel laid along the bottom of the door. Consider this a temporary solution.
I have added weatherstripping around my front door so Ivan stays warm during the cold winter months. For more ideas on stopping drafts and air leaks in your home visit the UGA Extension site –www.ugagreenway.org.