I recently attended a great conference at Fort Valley State University (FVSU). The theme of the Under One Roof Housing Conference was "Seniors: The New Majority." Did you know that by 2020 almost 20% of our population will be over-65? It's those famous "Baby Boomers" who are increasing the numbers at such a rapid rate. Of the 76 million babies born between 1946 and 1964, there are about 72 million still alive. The last generation of Baby Boomers will reach 65 in 2029, increasing the over-65 crowd from around 40 million to 72 million. This will definitely affect most of us, either because we are over 65 or we are caring for someone over 65.
It was great getting ideas about ways to make my home safer and more adaptive to changes that we will all go through at some point in our lives or even now. Do a safety check of your home. You can use the UGA Extension Home Safety Checklist as a guide to see how safe your home is for you, your family and friends. Your home has lots of potential hazards. One in three adults over 65 is injured in a fall each year. Most are preventable. Children and adults under 65 can also be injured by home accidents that could have been prevented. Do your throw rugs have a non-skid backing? Is the lighting on your front porch adequate to prevent falling? Is your hot water set at 120 degrees Fahrenheit? Do you have a working fire extinguisher? Make your home safer starting today.
There are some simple things you can do, and gifts you can give, that will help keep seniors safe.  It may be something as simple as measuring cups or spoons that are color coded and easy to see with aging eyes; a silicone pot holder is heat resistance up to 400 degrees Fahrenheit; a vegetable peeler with an easy to grip handle; a flat staple remover with a magnetized handle to keep the staple from flying across the room; or a rain gauge with large easy-to-read numbers.
We also learned more about the aging process and the loss of senses and mobility that may affect us. It can be a bit overwhelming, but there are great resources and support like the CDC Healthy Aging, Administration on Aging, Alzheimer's Association, and Caregiving Resources.
The other great thing about this conference was that I received an award for the projects Keishon Thomas at FVSU and I work on together to make homes healthier and safer.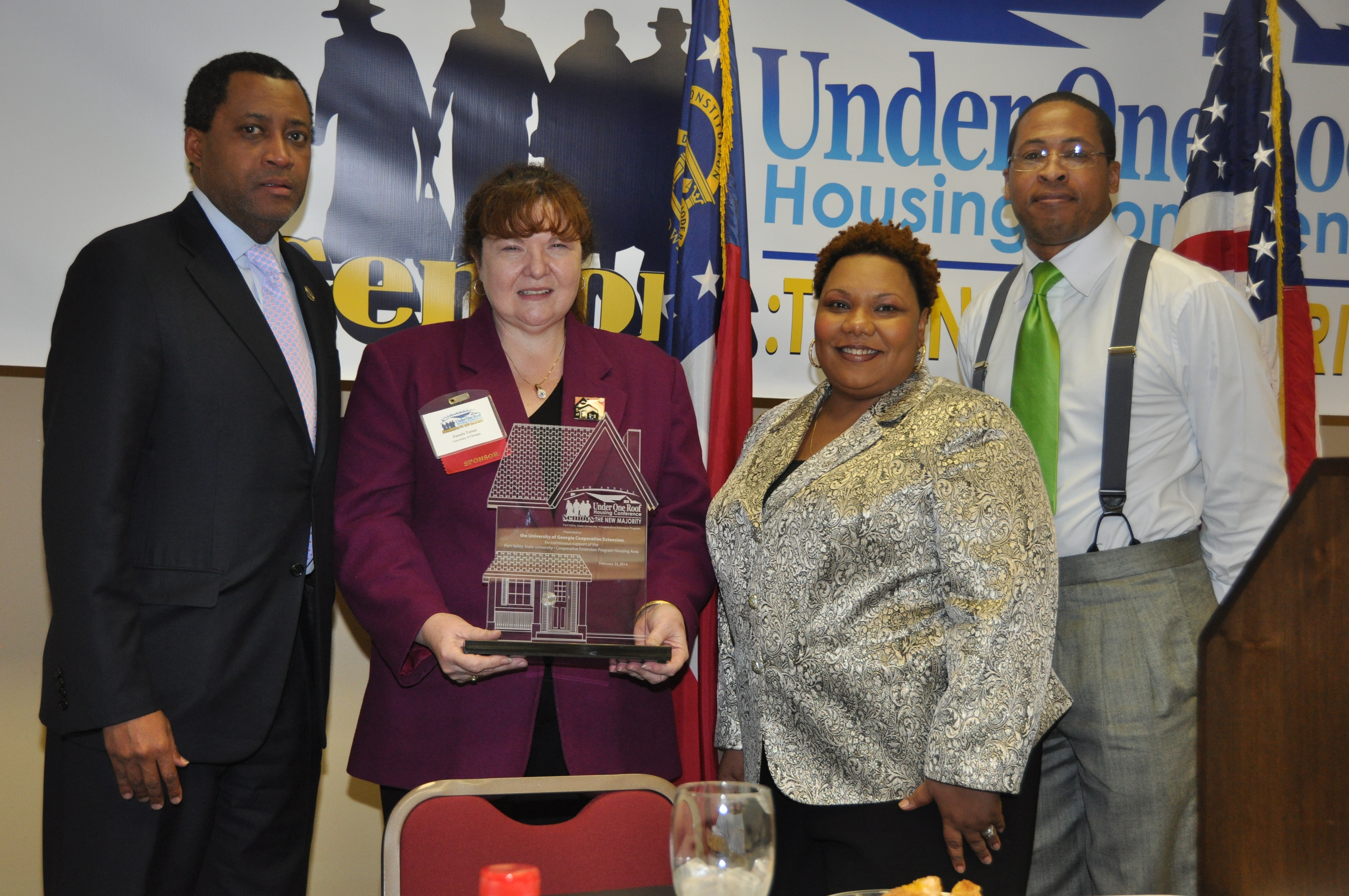 Left to Right: Dr. Joe Leonard Jr., USDA Assistant Secretary for Civil Rights; Dr. Pamela Turner, University of Georgia; Ms. Keishon Thomas, Fort Valley State University (FVSU); Mr. Billy Brown, FVSU