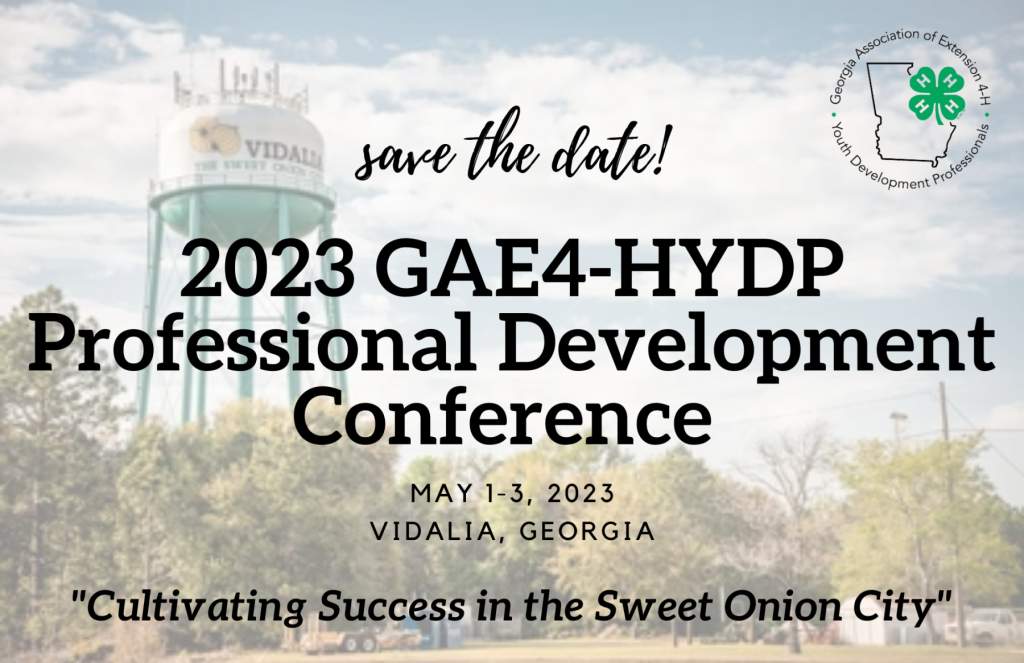 Conference Details
Dates
Monday, May 1 – Wednesday, May 3
Location
Southeastern Technical College
3001 E 1st St, Vidalia, GA 30474
Important Dates at a Glance
✓February 1 – Conference Registration Begins
✓February 13 – Requests for letters of support for NAE4-HYDP awards due to GAE4-HYDP President Jeffrey Burke (jburke@uga.edu)
✓February 27 – Vice President and Treasurer Leadership Request for Administrative Approval form due to Dr. Laura Johnson
✓March 1 – Deadline to submit workshop proposals
✓March 10 – State and National Awards applications are due
✓March 24 – Accepted workshops' applicants will be notified
April 1 – Room blocks end; late fee added to registration
April 7 – Vice President and Treasurer nomination packets due to Dinah Rowe (d2rowe@uga.edu)
April 11 – Committee Chair-Elect nominations due to Megan Powell (megan.powell25@uga.edu)
April 17 – Registration ends
Conference Registration
Registration for the annual meeting will begin Wednesday, February 1. A $25.00 late fee will begin on Saturday, April 1. Registration will close on Monday, April 17.
Full-Time registration options include:
Full-Time Member – $150.00
Full-Time Non-Member – $175.00
Full-Time Life Member – $100.00
Part-time registration options include:
Tuesday Only – Includes Breakfast, Breaks, Box Lunch, Educational Sessions, Tours, and Dinner – $100.00
Tuesday Only Life Member – Includes Life Member Luncheon & Program at 9 Columns, Tour, and Dinner – $75.00
Guest tickets are available for:
National Awards Dinner – $50.00
State Awards Brunch – $25.00
Agricultural Tours
From onions to olives, Toombs and surrounding counties have an abundance of diversified agriculture! Tuesday afternoon of the conference will feature group tours to locations unique to the region. Visit, learn about, and maybe even go home with a little bit of Vidalia! Choose one of the following options when you register.
SOLD OUT Watermelon Creek Vineyard: Learn about Georgia viticulture while touring the winery. Wine tasting & souvenir glass included. This tour is $20.00 per person. Registration is limited to 35 participants.
All About Onions: Visit a commercial farm to learn how Vidalia's famous onions are grown, harvested, and packaged for distribution. No cost or limit for registration.
UGA Vidalia Onion & Vegetable Research Center: Gain insight into the research being conducted by UGA faculty on the taste, production, and storage of the world's favorite onion. No cost or limit for registration.
Terra Dolce Farms & Vidalia Bees: Georgia's climate, soil and water have proven the perfect combination for growing several olive cultivars. Visit Terra Dolce (sweet earth) Farms to learn about the olive farm and cold press olive oil production. Next, visit one of the top three commercial apiaries in the state to learn about the honey bee's integral role in agriculture.
R&K Greenhouses: Visit a state-of-the-art operation that provides transplants for many of the commercial vegetable growers in the region. No cost; registration is limited to 20 participants.
Hotel Accommodations
The conference has room blocks at two hotels. Please call the hotel directly to make reservations and mention that you are with GAE4-HYDP! Rooms are limited– please reserve early! Rates are subject to change if the room block is filled.
Holiday Inn Express Conference Rate $125.00/night + applicable state and local taxes.
Home2 Suites Conference Rate $134.00/night + applicable state and local taxes.
Professional Development Sessions
A large part of this State Meeting is devoted to Professional Development. The proposal submission deadline has passed. Accepted proposals will be notified via email by Friday, March 24, 2023.
There are three submission categories:
Program Seminars (45 minutes)
"Tools of the Trade" Showcases (25 minutes)
Poster Session (1 hour manned)
Proposals can be submitted in a variety of areas including
youth development
program development
partnerships
organizational systems
access, equity and opportunity
Executive Committee Elections
Officer elections will take place during the annual meeting by electronic ballot to elect a Vice President (4-year term) and a Treasurer (2-year term). Before applying to any professional organization, personnel must follow official procedures, including completing and submitting the State/National Leadership Request for Administrative Approval. This completed form must be submitted to the Associate Dean for Extension's office at least six weeks before the candidate's application is due to the state association (February 24, 2023).
To be considered for office, the following items must be submitted to Immediate Past President Dinah Rowe (d2rowe@uga.edu) by April 7, 2023.
The signed State/National Leadership Request for Administrative Approval worksheet.
A letter of intent articulating the candidate's interest in seeking election. This letter should be no longer than one page.
A summary of the candidate's formal education; professional experience; qualifications for office, including previous leadership roles, committees/task forces, etc.; and professional achievements. This summary should be a maximum of two pages.
A headshot of the candidate.
During the opening business meeting, candidates for each office will be invited to give a campaign speech to the membership. The speech should be five minutes at maximum. Campaign posters are encouraged but not required.
For more information regarding elections, please contact Dinah Rowe (d2rowe@uga.edu).
Thank You to our Sponsors!
We are currently soliciting sponsorships for this year's meeting. If you are interested in sponsoring this year's meeting, please complete this year's sponsorship form or contact Jeffrey Burke (jburke@uga.edu) for more information.
Platinum
($1,500+)
Gold
($1,000-$1,499)
Silver
($500-$999)
Bronze
(-$500)