Extra! Extra! Read all about it! The 2021 Georgia Pollinator Plants of the Year have been announced and gardeners, growers, and retailers alike can come together in support of these special plants. Not familiar with the Georgia Pollinator Plants of the Year Program? Allow me to get you up to speed.
The plight of the pollinators has received a tremendous amount of attention over the past several years, and many people, organizations, schools, and communities are coming together across the state to answer the call to action. One way the public can respond to declining pollinator populations is by creating pollinator habitats. In recent years, more and more pollinator habitats are being created, which is a wonderful thing to see, but do all of these gardens have appropriate plant species in them? Maybe, maybe not.
When designing these gardens, native plants have some advantages over nonnative species, though many gardens have a combination of both. Using a combination of natives and nonnatives is a fine approach, just be sure that you avoid planting nonnative, invasive plants, such as Japanese honeysuckle (Lonicera japonica) or Chinese wisteria (Wisteria sinensis).
One of the main benefits of using native species is that they tend to be better adapted to our region's growing conditions, and are therefore inherently more resilient in the landscape. Additionally, while any flower rich in nectar will serve as a food source for insects passing through the area, native plants may also serve as the host plant for the larval stage of these insects. Thus, when you use native plants, you're truly creating a habitat that not only provides a snack, but also supports the full life cycle of these insects.
One of the hurdles gardeners face when developing pollinator habitats is that many of the preferred native species needed to build these insects' preferred habitats are difficult to find. Thus, to improve availability of appropriate pollinator supporting plants statewide, the Georgia Pollinator Plants of the Year Program represents the combined efforts of the State Botanical Garden of Georgia, University of Georgia Cooperative Extension, Georgia Department of Natural Resources, growers, entomologists, landscape professionals and conservationists across the state.
The Georgia Pollinator Plants of the Year program annually recognizes four top performing landscape plants that not only support pollinators but they also grow beautifully in a garden. Nominations are solicited from gardeners throughout Georgia and are then determined by a selection committee based on each plant's horticultural value, ease of propagation and ecological significance.
Plants are recognized and promoted from the following categories: "Spring Bloomer", "Summer Bloomer", "Fall Bloomer" and "Georgia Native". Seasonal selections may or may not be native.
Here are the winning plants for this year:
Spring Bloomer – Conradina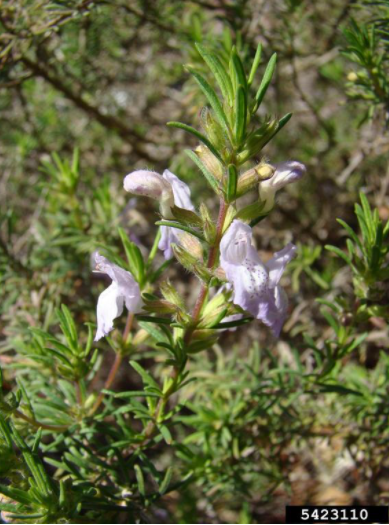 A member of the mint family, conradina, also known as "false rosemary", has aromatic, needle-like leaves and is quite drought-tolerant once established. Plant in full sun and do not overwater. In spring, the plant becomes covered in small, lavender flowers. Mature plant size is about 1-2 feet tall. This plant supports many native bees and other pollinators. Gardeners also enjoy having this plant around for the lovely smell and fine-textured evergreen foliage.
Summer Bloomer – Sweet Pepperbush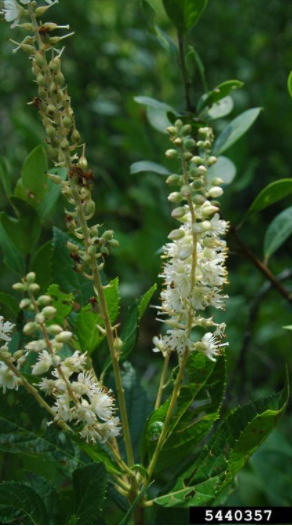 Sweet Pepperbush is a small, deciduous and densely branched shrub. This plant prefers moist sites and performs beautifully in poorly-drained soils – a true winner for gardeners planting in our North Georgia clay! The plant can thrive in either full sun or shade. Wispy, white flowers give way to persistent seed heads in the fall. The plant not only supports many native bees and other pollinators but birds and other animals feed on the seeds in fall and winter. Incredibly fragrant flowers will bloom well even if planted in shade.
Fall Bloomer – Downy Goldenrod
One of the shorter goldenrods, this plant stands at 1-3 feet tall and blooms from August to October in dense, spike-like clusters, creating a lovely yellow plume. Like other goldenrod species, downy goldenrod is drought-tolerant and prefers full sun. Avoid overwatering! This plant brings tremendous conservation value to your landscape, as it supports bees, wasps and at least 112 species of butterflies and moths! If you're looking for a great fall bloomer that is relatively deer resistant and behaves well in the garden, then this is the plant for you.
Georgia Native – Butterfly Weed
This perennial wildflower that reaches 1-2' tall and has highly branched stems with lance-shaped leaves. This Georgia native is deer resistant, drought-tolerant, and prefers full sun and well-drained soil. Bright orange blooms are attractive to all sorts of pollinators, and the plant also serves as the larval host plant for Monarch Butterfly and Milkweed Tussock Moth. Bees, other butterflies and hummingbirds also enjoy the nectar from this plant. Orange flowers are striking and long-lived; few other plants have such a bright orange color. Excellent for sunny borders, meadows and containers.