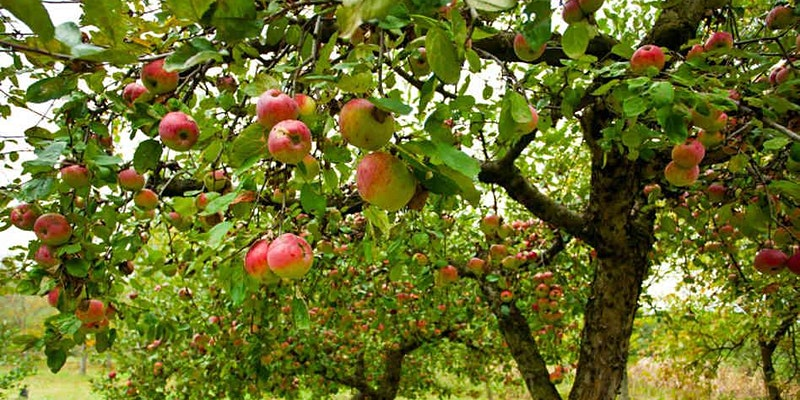 Out of an abundance of caution we are taking the 2021 apple grafting workshop "on the road" and into your homes. The class will offer the same great learning opportunities to understand how grafting works and the science behind it all. We will provide nearly all the physical materials for you to put your new skills to work and have arranged multiple pickup locations for convenience.
How it is going to work: During registration, you will select one of the six pickup locations for your materials. Please be sure that you are able to pick up in the allotted time window. You will also be asked to select one of the four classroom times on March 31 and April 1 for the live Zoom tutorials and troubleshooting. By registering, you will also have access to pre-recorded lectures and tutorials covering:
History of Apples in Georgia and the Southern U.S.
Apple Genetics and Varieties
How to Collect and Store Scions for Grafting
Grafting Technique
Post Grafting Care & Pruning
Participants will be provided with the following supplies:
5 semi-dwarf rootstocks (M7 about 15′ tree at maturity)
9 labeled scions ("Yates", "Winter Terry", "Tarbutton", "Southern Detroit", "Golden Delicious", "Woodstock", "Myers Royal Limbertwig", Rambo", and "Arkansas Black"
5 vinyl plant tags for labeling
Precut strips of parafilm
Participants will need to provide their own:
Grafting knife or utility knife, normal pocket knives are not ideal as a thin, sharp blade is needed
Nail polish or paint dab to seal any cut ends
Dates and times of LIVE Zoom class times:
Wednesday, March 31 from either 9:00 – 10:00 a.m. OR 12:00 – 1:00 p.m.; or,
Thursday, April 1 from either 3:00 – 4:00 p.m. OR 6:00 – 7:00 p.m.
Cost: $35.00 per person. Deadline to register is Friday, March 19.
Pickup Locations: During registration you will select which location you wish to pick up your materials. Please make sure you are able to pcik up during the allotted time.
Athens – Monday, March 29th 1:00 – 6:00 p.m. at 275 Cleveland Road, Bogart, GA 30622
Blue Ridge – Monday, March 29th or Tuesday, March 30th 9:00 a.m. – 12:00 p.m. or 1:00 – 4:30 p.m. at 205 Church Street, Blue Ridge, GA 30513
Canton – Monday, March 29th, 1:00 – 5:00 p.m. or Tuesday, March 30th, 1:00 – 5:00 p.m., 1130 Bluffs Parkway, Canton, GA 30114
Atlanta – 4H Camp Truitt – Monday, March 29th, 10:00 a.m. – 2:00 p.m. at 4300 Herschel Road, College Park, GA 30337
Lafayette – Monday, March 29th, 8:00 a.m. – 4:30 p.m. 102 Napier Street, Lafayette, GA 30728
Newnan – Monday, March 29th or Tuesday, March 30th, 9:00 a.m. – 12:00 p.m. or 1:00 – 4:30 p.m. at 255 Pine Road, Newnan, GA 30263
For more information, call Josh Fuder at 770.721.7803 or by e-mail at jfuder@uga.edu.
UGA Extension is an Equal Opportunity, Affirmative Action, Veteran, Disability Institution