People across the country have received unsolicited packages of seeds. The packages are being sent by mail and may have Chinese writing on them. The Georgia Department of Agriculture has been notified that numerous Georgia residents have received unsolicited packages containing seeds that appear to have originated from China.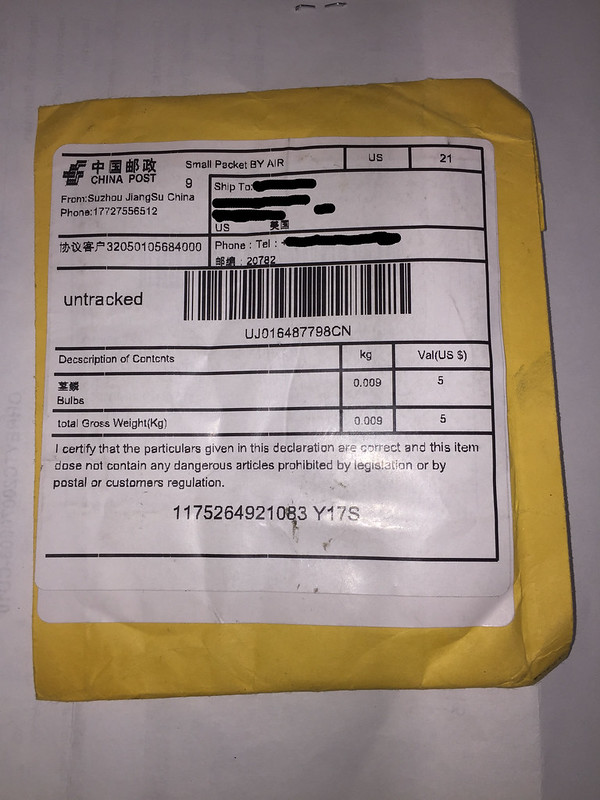 The Bartow County Extension office has also been contacted by several local residents who received these seeds. Recipients are strongly advised not to open the packages or plant the seeds. Our main concern is the potential for these seeds to introduce damaging pests or diseases that could harm U.S. agriculture. Please don't throw the seeds away, which could end up becoming a problem elsewhere.
Save the seeds and the package they came in, any enclosed papers, and the mailing label. Place the unopened seed packet and any packaging, including the mailing label in a mailing envelope. If the seed packets are open, first place the seeds and their packaging into a zip-lock bag, seal it, and then place everything into a mailing envelope.
You may drop off seeds at the Bartow County Extension office or mail to the Tifton Seed Laboratory, P.O. Box 1507, Tifton, GA 31793. Please include your name, address, and phone number so that a State or Federal agriculture official can contact you for additional information, if needed.
We are not aware of any human health risks at this time. In an abundance of caution, people should wear gloves and limit touching the material. People who believe they are experiencing a health issue as a result of touching these seeds should contact their medical provider.
USDA is working closely with other federal authorities and online retailers. Consumers who received packages of unsolicited seeds may want to consider changing their passwords on garden-related vendor websites. Consumers may also want to contact the e-commerce company if they are concerned that their account was compromised in any way or to complain about the fraudulent use of their personal information.
As of August 31, USDA has collected 8,507 packages from 50 States. They've completed examinations of 2,410 of those packets and identified a total of 321 different species of seed. While we don't know exactly how many seed packets may have entered the United States, we can confirm reports from all 50 States, the District of Columbia, and Puerto Rico. Some seeds in the packages are unknown at this time and may be invasive plant species.
Invasive species wreak havoc on the environment, displace or destroy native plants and insects and severely damage crops. Taking steps to prevent their introduction is the most effective method of reducing both the risk of invasive species infestations and the cost to control and mitigate those infestations.
Online purchases of plants, seeds, and other plant products can be risky because these items can carry a range of invasive pests and diseases. These purchases can also be illegal without proper inspections and paperwork, such as permits or plant health certificates. Buyers should ask the seller to make sure this certificate is included in the package with the plant material. Most imported plant material also requires an import permit issued by USDA's Animal and Plant Health Inspection Service (APHIS) and may be subject to inspection at the port of entry.
Anyone who has received unsolicited seeds in the mail from China or any other country is encouraged to contact the Georgia Department of Agriculture Tifton Seed Lab at 229-386-3145 or email SeedLab@agr.georgia.gov. USDA also has a website for reporting unsolicited seeds online at: https://www.aphis.usda.gov/aphis/ourfocus/planthealth/news-info/unsolicited-seeds.

###
Paul Pugliese is the Extension Coordinator and Agricultural & Natural Resources Agent for Bartow County Cooperative Extension, a partnership of The University of Georgia, The U.S. Department of Agriculture, and Bartow County. For more information and free farm, lawn, or garden publications, call (770) 387-5142 or visit our local website at ugaextension.org/bartow.