These past couple of weeks have been extremely hot dry. I have seen many crops, especially dry-land corn hit hard by these drought conditions. Even with irrigation the weather has been unfavorable for young peanuts and cotton, and even tasseling corn. I have even started seeing trees begin shedding leaves to conserve water.  Ground temperatures, even down to an inch have been in excess of 100 degrees on dry soil. When seeds germinate in this heat, the plant emerges to very unfavorable conditions and these young seedlings can have a difficult time surviving especially in a dry-land situation.
I have spoke to several growers throughout the county and none can remember the month of May being this hot and dry. Yes, May can have some hot days but it is definitely unusual for our days to be in excess of 100 degrees for several days in a row. Not only that but the humidity is lower so when you wake up the morning is nice and cool (I have had morning temperatures almost in the mid 60s), but once the sun rises it doesn't take long for the mercury to start that steady march upward.
So, where are we officially at in regard to our climate status? Currently, Tattnall is in a D1 level drought (Moderate Drought). See the figure below from the U.S. Drought monitor website. Along with our drought status I thought I would put some precipitation forecast as well as our three month temperature forecast.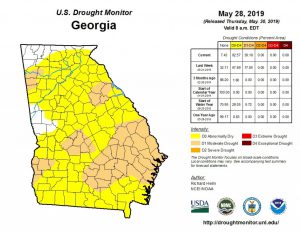 Here is a photo of precipitation forecast through June 11th, 2019. This is taken from NOAA. The outlook appears fairly promising. According to the legend Tattnall county seems to be in for around two to four inches in the upcoming week.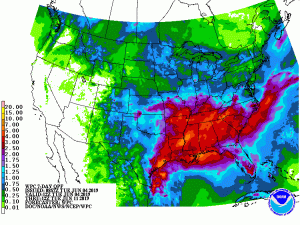 The long-term temperature outlook has us with around a 40% chance of our temperature being higher than normal. Now, of course this does not necessarily mean we are going to have warmer temperatures but the climate patterns shows a likely scenario of this occurring. I would much rather have some warmer temperatures and more rainfall than less rain and cooler temperatures. How about you?