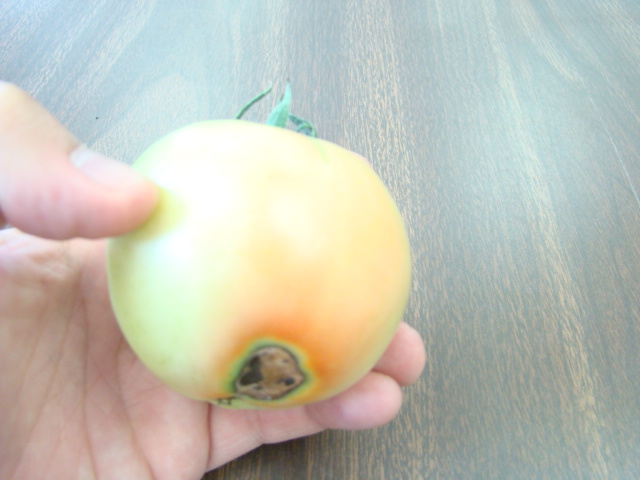 Many folks have tomato plants in their gardens, and many of them have some nice tomatoes that will be ready soon.  Every year in the summer I get calls about blossom end rot.  Most folks say their tomatoes look good, with a healthy vine, but some tomatoes are turning black and rotting on the bottom end (opposite the stem).  This is blossom end rot, and it is not at all uncommon in tomatoes. It is not caused by an insect or disease, but is a symptom of calcium deficiency in the fruit.  It can be caused by low calcium in the soil or other cultural factors, mainly fluctuating soil moisture (either too dry or too wet).  These conditions result in a deficiency in calcium available to the maturing fruit.  It is almost unavoidable in hot conditions, especially with the 100 degree days we are likely to have in the months ahead.
Don't worry, though.  While blossom end rot is bound to occur, it is treatable and cultural practices can be done to reduce its occurrence.  The calcium deficiency that causes blossom end rot is usually a result of climatic or cultural problems.  It is related to several factors, including calcium, nitrogen, and soil moisture levels.  It can occur even when there is abundant calcium in the soil and tissue tests show high levels of calcium in the plant.
1.Applying lime or gypsum to the soil several months before planting can help prevent blossom end rot. This will put the needed calcium in the soil.  Foliar sprays of calcium won't correct blossom end rot once it has occurred on the fruit.
2.Avoid excessive use of nitrogen fertilizers. This can promote blossom end rot by causing excessive vegetative growth on the foliage, which can "rob" calcium that would otherwise go to the fruit.
3.Remove any tomatoes that begin to show symptoms of blossom end rot. This may help the plant to produce subsequent healthy fruit.
4.Keep the tomato plants watered regularly.  Tomato plants need about an inch of water per week to stay healthy.  Watering deeply once or twice a week is better than light, frequent watering. However, if your tomatoes are in pots or buckets, they may not be able to hold that much water and may need it more frequently.  Overwatering, though, can be just as bad.  Make sure that the plants aren't water-logged.  Extreme fluctuations in soil moisture can cause an increase in blossom end rot.
5. Many people have tried foliar calcium sprays such as "Blossom End Rot Stop". These treatments are only short term fixes and often work poorly because of poor absorption and movement to the fruit area where it is needed.  They may help some, but don't rely solely on them to prevent blossom end rot.