Crop depredation by deer continues to be a problem in Bulloch County. The Georgia Wildlife Federation will be offering support of the Hunters for the Hungry program in Bulloch County again this year. This will be the third year that Bulloch County has participated in the program.
Under this program, hunters can kill deer and have them processed free of charge. The meat is then distributed to those in need.
We have secured participation from two local processors, Billy and Sons Processing and the Community Freezer Locker, to handle the processing. Statesboro Food Bank will handle the distribution. Their contact information is listed on the below flyer.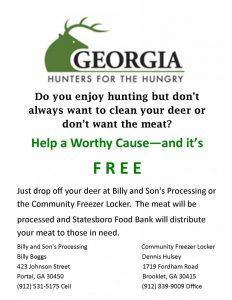 Please help out by letting hunters know of the program or participating in the program yourself. This is a worthy cause that will benefit farmers, hunters, landowners and those in need.