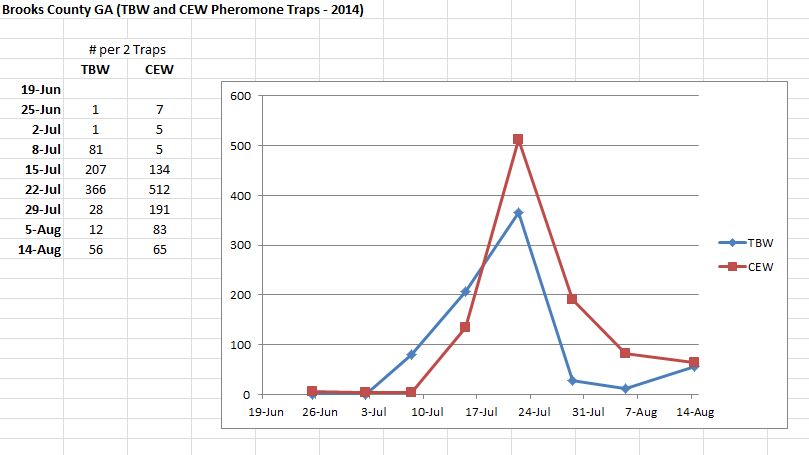 I have included the current Brooks County moth numbers for Tobacco Budworm (TBW) and Corn Earworm (CEW).  Also, for your information I am attaching a pest update from Dr. Phillip Roberts.  Please call if you have any questions.
This is Phillip Roberts, Extension entomologist with the University of Georgia and this Pest Patrol Update is being taped on Thursday August 14th.
During the past week we have received a few reports of both corn earworm and fall armyworm infestations in cotton.  To date these reports have been somewhat isolated and sporadic but treatable infestations have been reported so thorough scouting is a must.  When corn earworm escapes are found in Bt cottons they are typically found in blooms, bloom tagged bolls, or in bolls a few nodes below the uppermost white bloom.  Be sure to look under stuck bloom tags for larvae and damage.
Fall armyworms are typically observed in bolls in the lower canopy and sometimes blooms.  When scouting be observant for etching on the inner surface of boll bracts down in the canopy.  Small fall armyworm may initially feed on the inner surface of boll bracts prior to feeding through the base of a boll.  This etching creates a subtle window pane effect.  The threshold for fall armyworm is 2 times that of corn earworm.
Stink bug damage is variable from farm to farm.  Scout and treat on an as needed basis.  Be observant for the presence of other pest such as corn earworm and/or spider mites; as their presence should influence insecticide selection when targeting stink bugs.  For example, if corn earworm eggs and/or small larvae are observed, consider using a pyrethroid in your stink bug treatment; perhaps a low rate of an OP plus a pyrethroid if brown stink bugs are the primary target.
Mites are in most fields I have observed.  Fortunately populations have not "blown up"…maybe that is due to some of our management decisions!  Avoid treatments known to flare mites when they are present.
Soybeans remain relatively quiet, but several species of foliage feeders are present and we need to continue scouting and react when appropriate.  Kudzu bug numbers remain low and we believe migration has ceased in many areas.  So what you got with kudzu bugs is probably what you will have for the rest of the year or at least to early maturity group soybeans began senescing.  As pods continue to develop, be sure to keep a close watch for stink bugs.