Today is a special day across the State of Georgia. It is a day to recognize all those Ag Heroes in your life. Did you know that Georgia is the number one state in the nation in the production of peanuts, broilers (chickens), pecans, blueberries and spring onions? According to an article by Georgia Farm Bureau, one in seven Georgians works in agriculture, forestry or related fields. That's a lot of people working in agriculture. Without these people, we wouldn't have clothes to wear, food to eat, or so many of the daily items we need.
During the current worldwide health crises, the U. S. Department of Homeland Security identified agriculture as a critically essential industry and has made special exceptions to allow farms and agribusinesses to keep working so that they can produce food and fiber.
Ag Hero Video Contest: For today's STEMulating Learning Challenge, we are going to do a technology based challenge with our Ag Hero Video Contest. We encourage each of you to use your cell phone, camera, or even laptop camera to record a short message telling us who your #AgHero is. Can't think of an Ag Hero you know personally? That's okay, you can make a short video thanking our farmers. Videos should be posted publicly on Facebook or Instragram with the hashtags #GaAgWeek2020, #AgHero, #GeorgiaGrown and #Tattnall4h. Your video will have the chance to be featured in our next blog post or on our Facebook page or Instagram! All entries posted by April 1st that include the proper hashtags will be entered for a chance to win a free Southeast District tshirt!
Thank A Farmer Card Writing: Youth and adults are also encouraged to write a Thank You card to a local farmer. Shout out to Agatha Grimes, Candler County 4-H'er, for doing the artwork on our Tattnall County Thank a Farmer Cards. You can download the template below in a full card to be colored OR a half fold card that allows you to write a message on the inside. You can mail your card to your Ag Hero OR share it with someone via social media. If you don't know someone to send it to, you can share it online for all farmers in your community with the hashtags shared above. We look forward to seeing lots of great cards.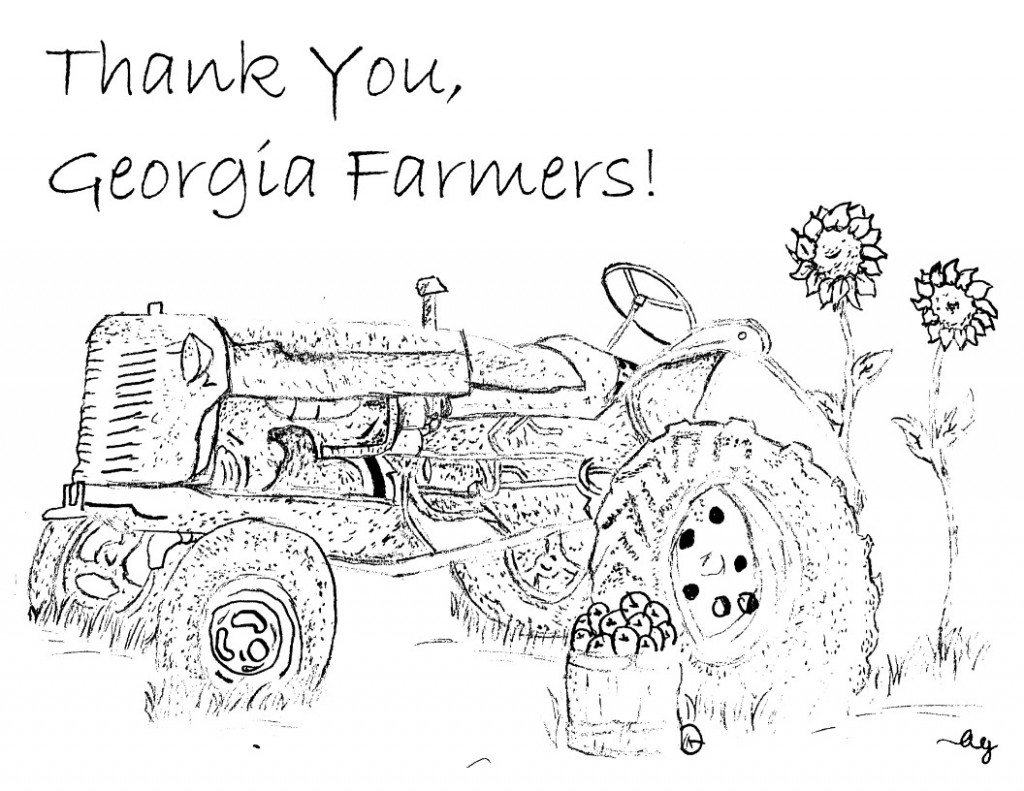 Download the Half Fold Card for Printing by clicking here: Half Fold Card
Download the Full Page Card for Printing by clicking here: Full Page Card
Your Ag Hero may be a farmer, a farm worker, a tractor or chemical salesman, or one of the many other people who help keep this critically essential industry going. No matter their role, it is important to take time to say "Thank You" and there is no better day to do so than today.
We encourage you to share your thank you messages on social media with the hashtags #Tattnall4H and #4HSTEMULATINGLEARNING, as well as the statewide hashtags #GaAgWeek2020, #AgHero, and #GeorgiaGrown. We look forward to seeing lots of neat videos and thank you cards. For more details about these activities, please contact us at rbowen1@uga.edu.
Note: Contest is open to all youth, even if you are not a Tattnall County 4-H'er! Winner for video contest will be randomly selected from the entries.