Cardiovascular disease CVD, runs in my family, but fortunately, most chronic diseases, including CVD are caused by modifiable behaviors. The three most common risk behaviors for CVD are lack of physical activity, poor nutrition and inadequate weight management. The University of Georgia Cooperative Extension encourages you to love yourself by making changes to decrease your risk for heart disease.
Change your diet. Most of us do not get the appropriate number of servings of fruit and vegetables every day. Having one fruit and 1.5 to 2 cups of vegetables at every meal can do wonders for your heart.
Fruits and vegetables are high in fiber and low in calories, which aids in weight management. Try incorporating a variety of vegetables and fruits into your diet, like kale, asparagus, blueberries and cherries. I have found that drinking fruit and vegetable smoothies also increases fruit and vegetable intake.
Spice it up. When preparing food, reduce the amount of sodium to good heart health. We may be a society of foodies, and no one likes bland food, but there are ways to make foods taste great without adding sodium.
Spices and herbs add flavor. If you're aiming for an Italian-inspired meal, for instance, try using garlic powder, thyme, oregano and basil. Switching from garlic and onion salts to garlic and onion powders is a small step that could bring big returns.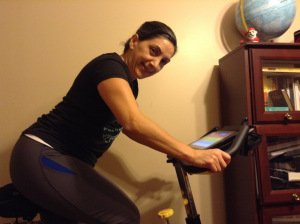 Make the effort. Physical activity takes effort on our part. Walking is a cost-effective, easy way to get moving. Walk the entire grocery store, to the mailbox or to the corner. Add a pedometer app to your phone to let you know the number of steps you take daily or if you are like Ines, set up your alarm early and do your physical activity in the morning, so it is out of your way and you have the energy to start the day!
Consider these Extension tips and make heart health a priority in February.  
Thank you Keishon Thomas for writing this article!
This is an excellent recipe for a healthy heart!        Quinoa, Black Bean & Mango Salad
Quinoa, an ancient grain that's actually an edible seed related to beets and spinach, makes a fantastic base for a salad.
Ingredients
1 cup quinoa
1-2 ripe mangoes, peeled and chopped
1/2 red or yellow pepper, chopped
1/4 English cucumber, chopped
2-3 green onions or a chunk of purple onion, chopped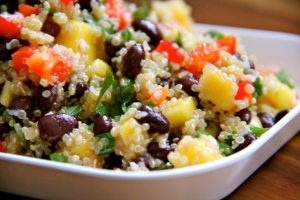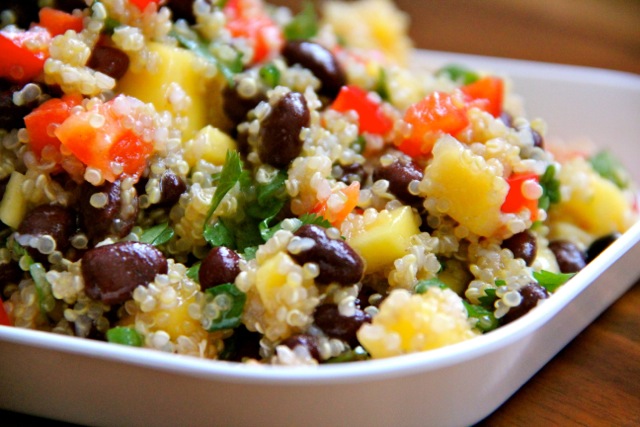 2 cups (packed) baby spinach, torn or sliced (optional)
half a 19 oz. can black beans, rinsed and drained
handful of torn cilantro (optional)
Dressing
1/4 cup canola oil
2-4 Tbsp. white wine or white balsamic vinegar
1 Tbsp. mango chutney, chopped if chunky (optional)
1 tsp. honey
1 tsp. curry powder or mild paste
1/4 tsp. cumin
Directions
Rinse quinoa well under cool water in a fine sieve, then cook in a pot of boiling salted water over medium heat until tender but still firm to bite, stirring occasionally, about 15 minutes. (Just like you'd cook pasta.) Drain well, return to the pot, put the lid back on and let it steam – this will produce fluffy quinoa – until cooled.
Combine the oil, vinegar, chutney, honey, curry and cumin in a jar or small bowl and shake or whisk to blend. If you like, season the dressing with salt and pepper.
Put the quinoa, mango, vegetables and beans in a large bowl, drizzle with dressing and toss until well coated.
Nutritional Analysis
Serving Size 1/2 cup (125 mL)
Calories 160, Total Fat 6 g, Saturated Fat 0 g, Cholesterol 0 mg, Sodium 15 mg, Carbohydrates 23 g , Fiber 4 g, Protein 4 g