By Esendugue Greg Fonsah, Doug Collins, Lenny Wells and Will Hudson
Hurricane Michael arrived the heart of Georgia pecans producing areas in the early morning of Wednesday October 10, 2018 and left a devastating blow to the entire industry.  Speaking with County Agents and Specialists, Mitchell, Lee, and Dougherty Counties that contribute to a third of total Georgia pecans suffered close or more than 50%.  The hurricane came at the most vulnerable time imagine.  Pecans crops that were close to harvest were destroyed.  Several pecan trees and nuts were knocked down.   Other producing areas such as Peach, Crisp, Leesburg and Bainbridge were affected with varying losses ranging from 20- 40% according to initial reports.  There were also structural damage.  Although initial loss is valued at about $200 million, this might change quickly after a comprehensive assessment is carried out.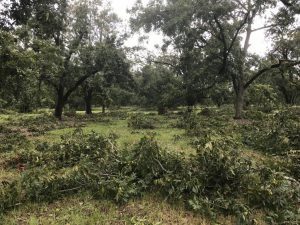 Courtesy of Dr. Lenny Wells.