by Brady Brewer
In a recent survey of agricultural lenders from across the nation conducted by researchers at the University of Georgia and Kansas State University, agricultural lenders indicated that non-performing loans increased and lenders expected this pattern to continue in the short and long term (Brewer et al., 2017). Agricultural lenders were asked if they experienced an increase in non-performing loans in their loan service territory over the past three months as well as their expectations for non-performing loans over the short and long term for their loan service territory. This expectation is the strongest reported by agricultural lenders in the past two years. Lenders reported an increase in non-performing loans for total farm loans (see graph), farm real-estate loans, and operating loans. This expectation of increased delinquency represents deteriorating cash reserves farmers have given lower net farm incomes experienced nationally.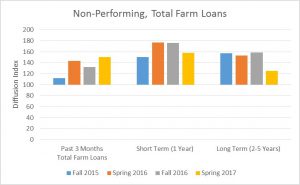 The first step for farmers that may be at risk of becoming delinquent or past due on notes is to calculate their working capital position. Working capital is the amount of cash or near cash assets on hand after all current liabilities (e.g. expenses, current portions of long term debts) are paid. Working capital can be seen as the buffer for a farm to absorb any short term losses. It can also be seen as a measure of financial risk for the farm. The greater the working capital, the less financial risk a farm has.
Farmers who are experiencing liquidity or working capital issues should implement strategies to prolong cash reserves for as long as possible. These strategies include: negotiating any long term leases, a thorough review of all operating expenses, prioritizing asset purchases, culling of old or unproductive assets, and sharing of assets if possible. These strategies will help minimize losses and make the farm more efficient in hopes of bolstering the working capital positions of farmers.
It is also important that farmers be open and up front with their lenders concerning any possible late payments or cash flow issues that may hinder loan repayment. Lenders have reported that they are more flexible with farmers who provide advanced notice of financial issues. This provides the agricultural lender time to develop a plan that could be mutually beneficial for both the farmer and lender.