Day three focuses on not using the commode as a trashcan. So flushing things other than the three P's down the drain will or could clog the commode and septic tank and system. The three P's are: Poop. Pee-Pee, and toilet Paper. Other things will not degrade rapidly and cause the tank to fill with these things and potentially cause back-up problems. One question is — can I flush flushable wipes? Most sources say that you should not. So, on this third day of SepticSmart week — Don't Overload the Commode!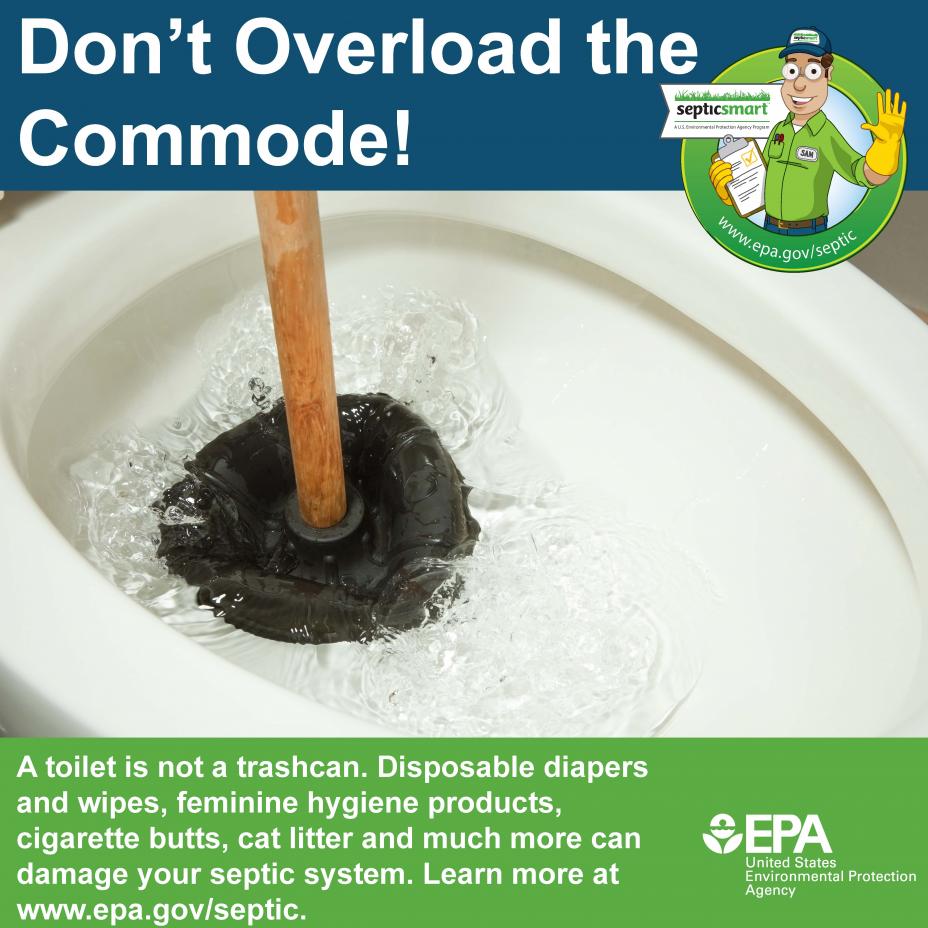 Some text and post for Twitter are:
#SepticSmart #QuickTip: Don't Overload the Commode! Know what should and shouldn't go in your toilet and stay #SepticSmart at epa.gov/septic https://youtu.be/mcYAubOSEvc
Some text and post for Facebook/LinkedIn/Instagram is:
Don't Overload the Commode! Your toilet is not a trashcan, flushing non-degradable products can clog your system and cause sewage to back up into your home or flood your yard. Do not flush anything besides human waste and toilet paper. Read more #SepticSmart tips at https://www.epa.gov/septic
The topic for Day 4 (Thursday) is: Pump your Tank!
Twitter text and post:
Pump Your Tank! Get your #septicsystem pumped every 3-5 years to maintain its lifespan! Learn more at https://www.epa.gov/septic
Facebook/LinkedIn/Instagram text and posts:
Pump Your Tank! Did you know a typical septic tank needs to be pumped every 3 – 5 years on average? Properly caring for a septic system can be challenging if you've never owned a septic system before. With Septic Sam's Top 10 List, learn easy tips to help prolong the life of your septic system. Check out our toolkit at https://www.epa.gov/septic/septic-systems-outreach-toolkit