Have you ever wondered why people can float so easily on the Dead Sea? If you haven't seen it, it is a very unique wonder of the world. The reason can be simply linked back to the effects of salt on the density of water. If you and your children want to learn more, there is a great activity that you can do at home to teach younger and older youth about water density. This lesson, Mystery Marsh Water, is a great way to teach youth about salinity, density, and just marshes in general.
Prior to starting the activity, it would be good to give students a little background on Tidal Creeks, Salt Marshes and Estuaries. This will help them know more about freshwater, saltwater, and the areas where these two things combine. Here are a few educational videos students can watch to learn more:
What is a Salt Marsh? (U.S. Fish & Wildlife Service)
What is an Estuary? (National Oceanic and Atmospheric Administration)
Younger students may wish to watch the experiment on video here and then recreate a similar experiment at home.
Upper middle school and high school age youth may wish to do the full lesson. Lesson instructions are provided here. In order for the experiment to work best, a parent or other adult who isn't planning to do the activity should mix the salt water and food coloring in the proper ratios prior to youth beginning the experiment. This helps keep the answer to the experiment a surprise. It also helps if the student conducting the experiment is only given the supplies needed and the worksheet. If you just hand them a copy of the whole lesson, you may spoil the answers for them.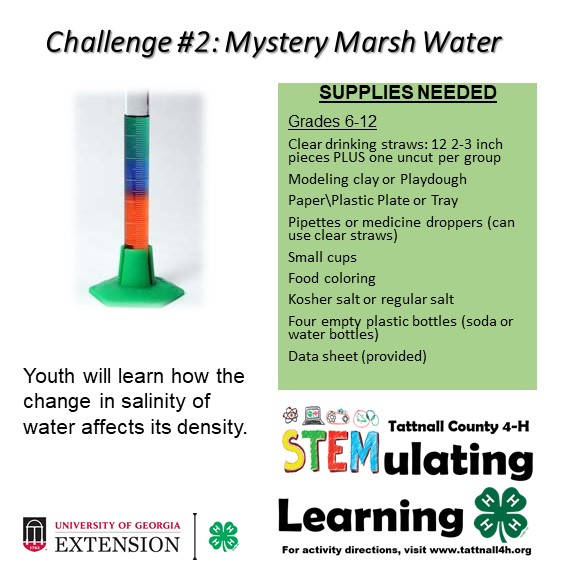 Want to learn even more about Salt Marshes and Estuaries? Try out the Wetland Metaphors lesson from Project WILD here.
Want to experiment with density of different types of liquids? If so, check out the Liquid Layers activity on the 4-H STEM LAB.
HINT: Want to turn your plastic straws into fancier pipettes? Check out this quick tutorial video appropriate for older youth with adult supervision. Don't have clear drinking straws to make the "test tubes"? You can also use small clear cups.
We encourage you to have your students take a picture of their final experiment results and post it on social media with the hashtags #Tattnall4H and #4HSTEMULATINGLEARNING. We look forward to seeing lots of cool layered experiments that your children will create. For more details or to request a formal lesson plan for this activity, please contact us at rbowen1@uga.edu.