Do your children love to build and design? If so, today's challenge is a great way for them to do this while also learning.
First, help your children learn a little bit about bridges. Here are a few resources to help you do so. Younger students may enjoy watching this fun, educational video about bridges: What Makes Bridges Strong? Youth in 6th- 8th grade may enjoy watching How Bridges Are Built Over Water. Older high school and college students may prefer to watch this in-depth, 45 minute video on How Do Engineers Build Safe Bridges. A nice article on the seven different types of bridges can also be found at EngineeringClicks.com.
Once your students has a basic concept of bridges and how they work, it is time to gather supplies. You may wish to vary the supplies you provide based on your child's age and level of ability. Below are some suggested building materials by grades: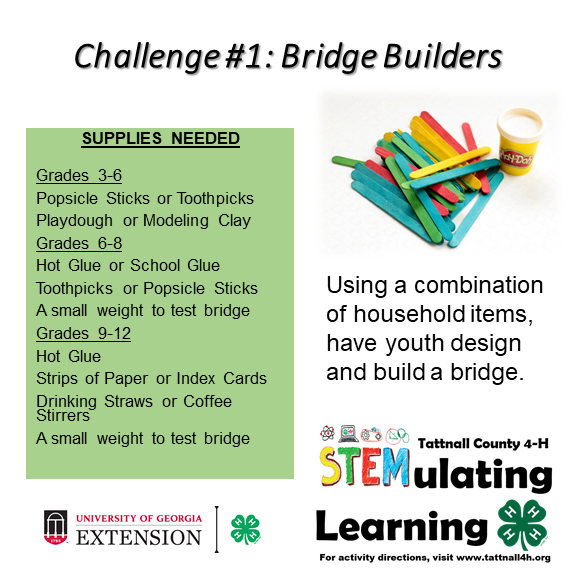 Once you have gathered the needed materials, it is time to let your students start designing. It is a good idea to let all students draw out their design on a sheet of paper, using their pile of supplies to help them think about how they will build.
After their design is drawn, it is time to start building! Provide your students with a clean, safe space to build and design. If you are concerned about messes from glue or other building materials, cover your students work space with a plastic table cloth or old newspaper. Allow your child approximately 15 minutes to work on their bridge. For young students, this may be enough time. If older students are attempting to build a larger, more complex structure, this activity may take up to 1 hour for construction.
For an alternate way to do this activity, check out the lesson on Building Bridges posted on the 4-H STEM LAB.
We encourage you to have your students take a picture of their bridge creation and post it on social media with the hashtags #Tattnall4H and #4HSTEMULATINGLEARNING. We look forward to seeing lots of cool bridges that your children will create. For more details or to request a formal lesson plan for this activity, please contact us at rbowen1@uga.edu.