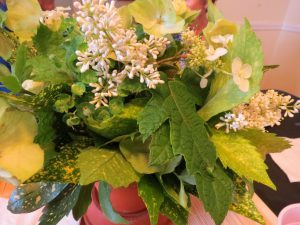 Not only does Valentine's Day fall in February, but so does National Floral Design Day! On February 28, we celebrate floral design all over the country.
There is a rich history of social and emotional symbolism wrapped up in the flowers that we share and enjoy with each other. For hundreds of years, flowers have been used to communicate love, sympathy, and honor.
Consider using the national day occasion to offer a public event that includes floral design. This could be a great way to engage people from all over the community, regardless of age or ability. Think about community centers, senior centers, libraries, and, of course, your Extension office, as possible locations.
Putting together a floral arrangement in the month of February can be great fun at a time of year when we tend to be stuck inside. No one needs to necessarily be an expert at floral design to enjoy the activity of arranging flowers and foliage. Brush up on some basic design principles, gather your materials, and have fun! Oregon State University has a free 4-H workbook that has simple line drawings to illustrate various floral designs. This publication can be helpful to you, as well as any adult and youth participants in events that you might plan.
To keep supply costs low, think creatively. Look around for inexpensive containers that can be used, such as beach pails from dollar-item stores. Encourage participants to bring a bowl or vase from home. Gather filler materials from the landscape and purchase only a few flowers for inclusion. One of my favorite go-to items for off-season floral displays are sticks — plain ol' sticks from the yard — that have been transformed with paint (gold and silver are stunning, but other colors can work well, too)! If hosting a floral workshop at other times of the year, flowers can be harvested from gardens, as well. You may need to collect a minimal fee from participants to cover the cost of floral foam if you choose to use it.
Springboard your conversations from the design activity to plant selection. Use the time to talk about plants that can be grown in the home landscape and also enjoyed indoors in floral arrangements at different times of the year. Looking for guidance? You can find advice on color selection that can be applied to floral design in UGA's Bulletin 1396, Landscape Basics: Color Theory. My colleague, Dr. Jim DelPrince at Mississippi State, has some great floral design resources. In fact, he has a great video, How to Use Landscape Materials in a Floral Arrangement.
Floral design activities can be loads of fun for all of us! As event planners, you are sure to enjoy the creativity that goes into gathering containers and floral materials. Participants love the opportunity to work with plants, visit with other people, and take home a beautiful arrangement to enjoy.