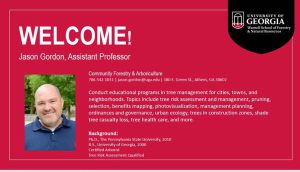 Happy Thursday!
Did you see our previous blog post about Arbor Day? Continuing with a tree theme, we will kick off our 2020 Thoughtful Thursday webinar series with Jason Gordon from UGA's Warnell School of Forestry & Natural Resources. Jason joined UGA as Forestry Extension faculty in summer 2019. On February 13, 2020 from 2:00-2:30 PM, Jason will join us online to discuss tree planting and initial maintenance.
During our monthly webinar (usually the second Thursday from 2-2:30 pm), UGA specialists share updates on a variety of horticulture topics with MGEVs. We use Zoom for these sessions so MGEVs, trainees, Extension agents and staff can join in wherever they are in the state. We are excited to introduce Jason to our volunteer base and share some of his expertise. To join the Zoom meeting for all 2020 sessions, use this link: https://tinyurl.com/ThoughtfulThursday-MGEV
MGEVs, we hope you are able to join in for this first Thoughtful Thursday session of 2020. If you can't attend the live session, be sure to catch the recording through your MGLOG profile. Then, make sure you record this continuing education opportunity in MGLOG. Thoughtful Thursday series are logged under Continuing Education. These 30 minute sessions are entered as 0.50 hours of CE. Be sure to include the 0 before the decimal point so that the system saves the entry correctly.
For all 2020 Thoughtful Thursday dates, visit our webpage.
New to the GA MGEV program? Search "Thoughtful Thursday" on the blog to read about 2018 and 2019 webinars.