The Georgia MGEV Program is Celebrating 40 Years!
The Georgia Master Gardener Extension Volunteer Program turns 40 this year, and we are excited to celebrate our accomplishments! We are combining several events into one mega celebration, and invite you to be a part of as much of it as you can stand!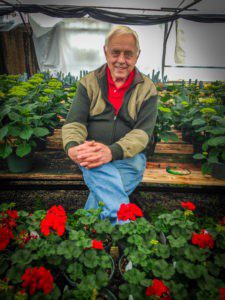 We'll kick off our celebrations on Monday, April 8, 2019, in Athens at the State Botanical Garden. We are delighted to have  Dr. David Gibby join us as our special guest. Credited with the creation of the Extension Master Gardener program, Dr. Gibby's story of his experience as an Extension agent training the first group of Master Gardeners and leading the first Master Gardener project is both insightful and inspiring. You'll find Dr. Gibby to be a humorous and enjoyable speaker and his comments offer a perfect beginning to our celebrations!
Following Dr. Gibby's presentation, you have the option of enjoying a tour on Monday afternoon. There are several from which to choose, including walking tours at the State Botanical Garden, a viticulture tour, and more!
On Tuesday, April 9, 2019, we offer our biennial continuing education event, Grow Strong!, at the Rock Eagle 4-H Center. You'll hear from specialists and other speakers offering updates in each of our state initiative areas, including environmental stewardship, gardening with youth, home food production, value of landscaping, and health benefits of gardening.
Since our celebration coincide with National Volunteer Appreciation Week, we take time on Wednesday, April 10, 2019, to have fun as volunteers. We have some unique workshops planned (including a quilting workshop for the creation of a special commemorative MGEV quilt!) for you to simply enjoy. We wrap up our 3-day celebration with lunch.
We've designed registration to be flexible. We wanted you to be able to attend as much or as little as you can or want. You can choose to attend one or all of the events. For those who want an affordable overnight accommodation, we have reserved cabins and offer meals at the Rock Eagle 4-H Center. For those who want to catch Grow Strong!, but don't want to travel, we offer several remote host sites that will be listening and participating via internet connection. We've created a "Plan Your Day" worksheet to help you figure out what you want to do. (In fact, we strongly recommend completing this before beginning your online registration.)
Don't delay in signing up for our 40th anniversary celebrations! We want to see you during our special events. Early-bird discounts end February 28, 2019. If you want one of our commemorative Grow Strong! t-shirts, be sure to register for Grow Strong! before March 14, 2019. No additional registrations are accepted after March 29, 2019. Visit our Celebration webpage for more tour offerings, event details, and online registration! Watch the YouTube video on the webpage for registration tips!