Frequently Asked Questions 
Georgia Master Gardener Extension Volunteer Program – Celebrating 40 Years with 4 Events
What are these April 2019 celebrations all about?
For all the event details, refer to this infographic and this flyer. To learn more and register, visit the GA MGEV webpage.
I have a scheduling conflict and cannot attend each event. Can I still register?
Of course! You can attend one or all of the events. The online registration is customizable, so just choose the options that work with your calendar. Use the Plan Your Day Worksheet first to ensure you know all the details about each day and event.
Who can attend?
This event is for all Georgia MGEVs and Trainees. UGA Extension Agents and Program Coordinators are encouraged to attend, too!
Can I bring a guest with me?
Yes! You can bring your spouse, sibling, or friend. Your guest will be your roommate if you are staying overnight at Rock Eagle. All guests must be over the age of 18. Guests visiting Rock Eagle who are not Master Gardeners will be sent a link to complete Risk Management Training (RMT) prior to April events. Completion of the training is a requirement for attendance.
What if my guest gets sick or other circumstances prevent him or her from attending?
Exact guest substitutions can be made up to April 3, 2019. So, you can substitute another individual to participate in the activities your guest was registered for. If you chose overnight lodging at Rock Eagle, your guest will be your roommate.
What is the registration deadline?
Final registration deadline: March 29, 2019
Early bird discount registration deadline: February 28, 2019 (exclusive promo code is found in the Plan Your Day Worksheet)
Registration deadline for t-shirt: You must register by March 14, 2019 to attend Grow Strong! 2019 to receive a Grow Strong shirt.
 Watch the YouTube video on the registration page for step-by-step registration instructions!
What is the cancellation policy?
Registrants who cancel before March 29, 2019 will be assessed a processing fee up to $65.00. There will be no refunds for cancellations after March 29, 2019. Exact guest substitutions can be made up to April 3, 2019. If the event is cancelled due to low enrollment or other UGA factors, a refund of 100% will be made.
Do I have to stay overnight at Rock Eagle?
Nope! Reasonably priced overnight lodging, including meals, at Camp Rock Eagle is available for your convenience. You may not need to stay overnight if you live nearby or you may wish to arrange alternate lodging options. The cabins reserved for Master Gardeners and guests are newly renovated and handicap accessible. Each cabin has six rooms and a large common area with a TV and wifi. Each room holds two occupants. It has a private bath and two twin beds, or two lower level bunk beds, also twin sized. One of the six rooms and bathrooms in each cabin is handicap accessible.
Do I have to stay overnight at Rock Eagle to eat breakfast and/or dinner in the dining hall?
Yes. Overnight lodging and meals are a package deal. Overnight lodging includes dinner for that night and breakfast for the following morning.
How do I get a t-shirt?
You must register for and attend Grow Strong! 2019 on April 9 to receive a special edition shirt. MGEVs and Trainees who register to attend Grow Strong at Rock Eagle or at a remote host site  by March 14, 2019 will receive a Grow Strong t-shirt. You are welcome to register a guest by March 14, 2019 to attend Grow Strong at Rock Eagle and they will receive a Grow Strong shirt. Due to limited capacity, guests cannot be registered for remote host sites.
What will the shirt look like?
Here is a peek of the draft artwork for the back of the shirt. These shirts are unisex fit, true to size, 100% cotton, but have not been known to shrink if dried on low in the dryer.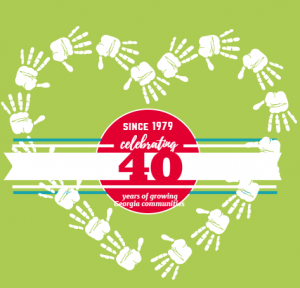 What is Grow Strong?
This program update began in 2015. The purpose behind Grow Strong! is to offer research updates related to state initiatives for the Georgia MGEV Program. MGEVs, by mission, are charged with assisting Extension in public educational outreach derived from unbiased, research-based information. Our MGEV program is organized around 5 state initiatives. These initiatives provide an organizational structure and focus for the projects and programs that MGEVs offer. Speakers address research or programming in each of the initiative areas. Grow Strong occurs every other year, usually January or February. But, in 2019 we offered a new training series, the Regional Leadership Conferences, during these months. So, Grow Strong will be incorporated into our April celebrations. In 2015 and 2017, MGEVs appreciated the opportunity to hear from specialists about current topics and to refresh their horticulture knowledge before diving into community events and gardening work.
I want to go on one of the tours in Athens. Will transportation be provided for these?
Yes. UGA vehicles will provide transport from the State Botanical Garden to tour locations. If you remain at the State Botanical Garden, tour guides will provide direction. Please be prepared for uneven ground, stairs, and slopes.
I am not super tech savvy. Is the online registration complex?
No worries! We have worked hard to make the online registration process smooth and straightforward. The key is to use the Plan Your Day Worksheet BEFORE accessing the online registration link. You can only complete the registration process once and you cannot save your progress and come back to it later. The secure, online system, TouchNet, will time out after a period of inactivity. This is why it is important to be prepared by using the worksheet first. You can print it out, make notes on it, and discuss the registration options with fellow MGEVs. The online site is mobile friendly, but easiest to see and complete on a computer.
Chrome and Firefox browsers are preferred for this online registration. Try switching to one of these if you notice slow loading speeds or have trouble accessing the online store.
I have a question that is not answered in this blog post. Who can I contact for help?
Email Sarah Sawyer at the State Program Office, sarahdh@uga.edu.