Good afternoon, Georgia MGEVs!
We have some rather exciting news to share with you!!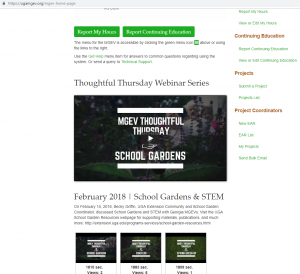 If you have logged into MGLOG this week, you probably noticed that your MGEV Home Page looked a little different. This is because the Thoughtful Thursday webinar series recordings archive is updated and conveniently linked for you to access anytime you log into MGLOG! The first MGEV Thoughtful Thursday took place in February of this year. Recently, for the September Thoughtful Thursday session, Sheri Dorn, State Program Coordinator, and Cobb & Fayette MGEVs, discussed ProjectMapIt!. October-December sessions to come: 
October 18 | Project Sharing
November 15 | Orchids with Dr. Bodie Pennisi
December 13 | Project Sharing
If you are unable to join in the live webinar sessions for upcoming Thoughtful Thursdays, do not fret, just check out the recordings when you access MGLOG to log volunteer service hours or continuing education hours. And, this webinar series is a great opportunity for continuing education!
While you are logged into your MGLOG account, be sure that your RMT is up-to-date prior to October 1, 2018 to maintain active MGEV status. Instructions for completing the brief training guide you through the process.