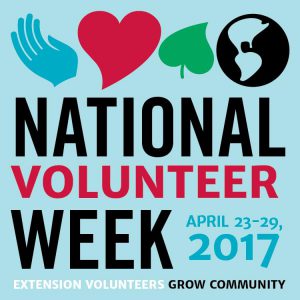 This week, we celebrate National Volunteer Week with organizations across the country. In the midst of your community gardens, lecture series, school and youth garden projects, plant sales, and other events, we give Master Gardener Extension Volunteers (MGEVs) a special shout out!
Hooray for MGEVs who partner with Extension to share research-based gardening information with our communities!
Thank you for contributing more than 191,000 hours last year to your educational projects! (Read more about last year's accomplishments here.)
We so appreciate your energy, passion, and enthusiasm for garden projects all over the state!
Follow this week's events on Facebook!