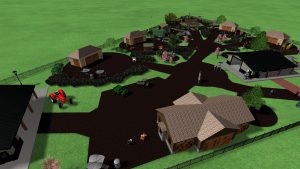 Guest post by Rebecca Brightwell, Associate Director / Public Service Faculty, University of Georgia, College of Family & Consumer Sciences, Institute on Human Development & Disability
Farmers markets are hotter than ever before.   A recent U.S. Department of Agriculture (USDA) report to Congress shares that local and regional food sales in the U.S. totaled $6.1 billion in 2012—an increase from the reported $4.8 billion in 2008.  In Georgia, the number of farmers markets has grown sixfold since 2000.  Today, the issue is often not a lack of markets, but a lack of small farmers to meet the demand.
In addition, there's been a significant shift toward more Americans growing their own food in home and community gardens, increasing from 36 million households in 2008 to 42 million in 2013.  That's a 17% increase and represents the highest level of food gardening in more than a decade, according to a special National Gardening Association report, Garden to Table:  A 5-Year Look at Food Gardening in America.
The report shows that more young people, particularly millennials (ages 18-34), are the fastest-growing population segment of food gardeners. In 2008, there were 8 million millennial food gardeners. That figure rose to 13 million in 2013, an increase of 63%. Millennials also nearly doubled their spending on food gardening, from $632 million in 2008 to $1.2 billion in 2013.
With increased interest in growing food locally, people are seeking out learning opportunities to be successful in agriculture.  That is where the Farm & Garden Learning Station comes in.  Imagine having a place where someone can learn about a wide variety of cottage industries in one place – from growing mushrooms to beekeeping.  The Learning Station, to be located at the UGA campus in Tifton, Georgia,  will do just that.  There will be a wide variety of hands-on displays so individuals can learn about different types of agricultural commodities.   In addition, trainings and lectures will be held throughout the year on a wide range of topics.
Another unique aspect of The Learning Station is the use of universal design concepts.  This simply means that products, spaces, and services are designed in way that are accessible for most individuals.  So, whether someone is a home gardener experiencing arthritis or a farmer with a spinal cord injury, there will be many solutions to see and experience at The Learning Station. There will also be suggestions for children to be able to safely participate in farming and gardening activities.
Would you help us design The Learning Station? MGEVs have worked with the public and demonstration gardens all over Georgia. We are at the initial planning stages for The Learning Station and need your expertise.  Your experiences and insights are valuable to us as we design this garden. We invite you to attend a brainstorming session that will be held on the UGA Griffi­n Campus on December 2, 2016, from 10 a.m. – 3 p.m.  In the morning, we will give a more detailed overview of the project and overall vision.   After lunch, we will divide into small work groups to brainstorm. The results of this session will be incorporated into the design for The Learning Garden.
Please join us on December 2, 2016 to contribute to the design of this unique garden and learning space!  Volunteer service hours awarded!
Click here to register for the design work session:
https://www.eventbrite.com/e/farm-garden-learning-station-brainstorming-session-tickets-27462385735