By: Shelby Mumma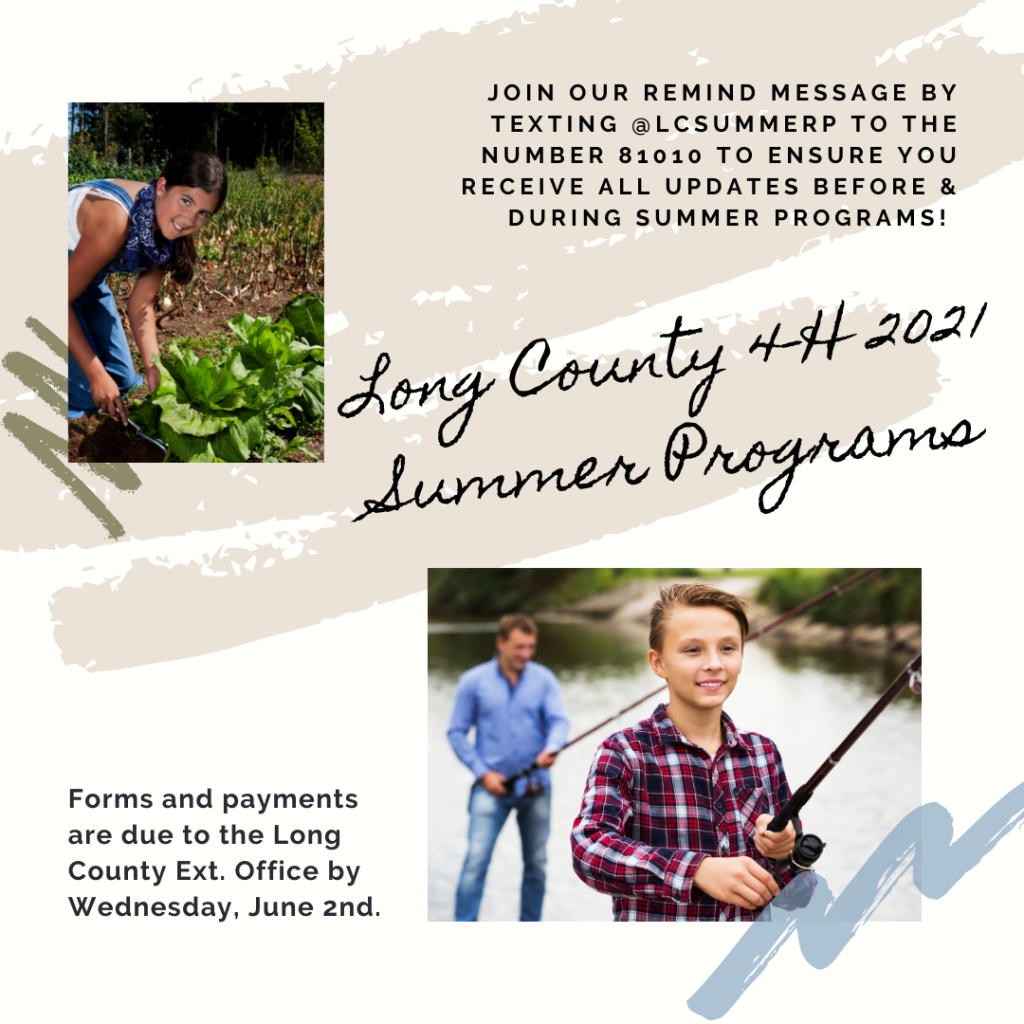 We have just about made it to yet another summer! Long County 4-H has been working on Summer Programming events and getting ready for 4-H Camp. While registration for 4-H Camp this summer has officially closed, we are still taking forms and payments for students wanting to get involved with our Summer Programming. We have events for 4th – 12th Graders and ANYONE can join as long as you enroll your child into 4-H! I'm not going to bore you with the many awesome opportunities and skills they could develop in 4-H, but it is a great organization that each student can benefit from in their own unique way.

Some of the activities we are doing this year involve a Farm Tour Series, a DNR Fishing Camp Day, a Water/Conservation Day Program in Brunswick and taking a trip to Burton 4-H Center. The Farm Tour Series consists of visiting Bland Farms in Glennville and Cecil Stafford's Tree Farm right here in Ludowici. Both of these activities are low cost and will give these students a chance to get outside and learn something new. They will get to view different types of farming equipment, go on a hay ride, sample some onions and blueberries, and make new friends! We will also be staying local for our DNR Fishing Camp Day that will take place at the Griffin Ridge WMA off Hwy 84. We will have a Marine Educator from Brunswick as our guest that day and she will teach us all about food chains, fishing, knot tying, adaptations, sustainability, and more! During the last month of June, we will travel to Massengale Park in Brunswick, GA where we will learn all about beach water quality, great stewardship practices, interact with live animals, go on a scavenger hunt, and view an EcoScapes garden! We will also be sharing our time in Brunswick with Camden County 4-H. There will also be a trip to Burton 4-H Center in Tybee Island, GA with Pierce County 4-H. This will be a fun filled day with Reptiles and Salt Marsh Ecology (yes, we will get muddy!)

Lastly, we will conclude our Summer with a trip to Summer Waves at the end of the July. There are group limits on all these programs, so make sure that you get your forms and payments in by Wednesday, June 2nd! You are always welcome to call the office (912-545-9549) or email Ms. Shelby if you would like additional information or have any questions about any activity or event (shelby.mumma@uga.edu). The Registration Form with details, costs, locations, and time can be found on our website or Facebook Page (Long County 4-H).
See graphics below for more information about some summer programming events.