Save the date for the best week of your life! Check out these summer camp options below. Camp sign up has already begun and will close on Tuesday, February 28th. A $100 deposit is due at sign up for any of the camps you choose. Deposit must be exact cash or a check made payable to Long County 4-H. The Extension/4-H Office is located at 81 W. Academy St. in Ludowici and open from 8am-12pm and 1pm-5pm.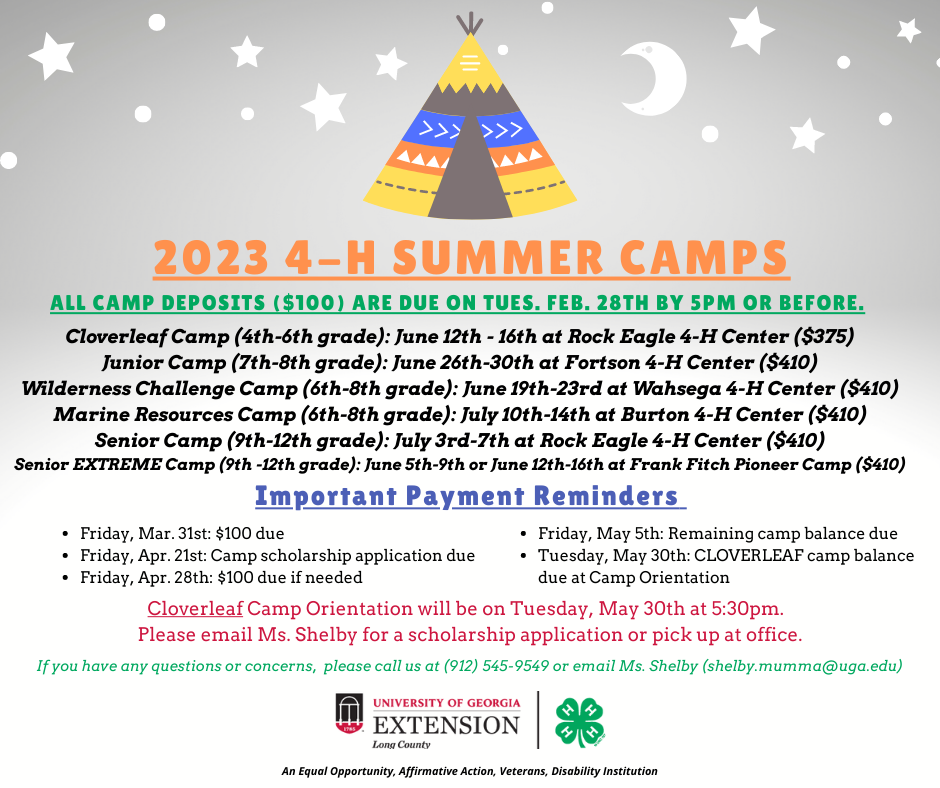 Cloverleaf Camp at Rock Eagle 4-H Center for 4th-6th graders: June 12th-16th Total Cost is $375. Junior Camp at Fortson 4-H Center for 7th-8th graders: June 26th-30th Total Cost is $410. Marine Resources Camp at Burton 4-H Center for 6th-8th graders: July 10th-14th Total Cost is $410. Wilderness Challenge Camp at Wahsega 4-H Center for 6th-8th graders: June 19th-23rd Total Cost is $410. Various activities at certain camps include canoeing, archery, swimming, nature trail, crafts, sailing, ropes course, herpetology, game, dolphin cruise, dissecting a shark, whitewater rafting, survival class, lake ecology, entomology, zip lining, rock wall climbing, farm animals, campfire, and lots of fun!
Lastly, there are 2 different options for high school students grades 9th-12th. Senior Camp at Rock Eagle 4-H Center July 3rd-7th costs $410. This includes a special 4th of July picnic with fireworks, game room, and field day activities. Additionally, Senior XTREME Camp at Frank Fitch Pioneer Camp will be offered June 5th-9th or June 12th-16th. This is for campers that want to experience the more primitive side to camping in tents, preparing your own meals and lots of outdoor recreation.
Fundraisers will be made available to help cut the cost of camp as well as camp scholarships. Please ask during sign up about these opportunities. Additionally, you can visit the Georgia 4-H website for more specific details on the summer camps above. Please call or email for more questions – 912-545-9549 or shelby.mumma@uga.edu. We are also always accepting applications for volunteers!