In this issue:
Current Situation
Oat Disease Situation
2021 Using Pesticide Wisely Trainings
2021 Spray Application Equipment and Technology Survey
New Paraquat Training Requirements
What about using sulfur in peanut fungicide programs??
Why seasonal climate forecasts aren't always accurate? By Pam Know
How do I fertilize my home pecans
Tifton Bull Test
UGA Cover Crop Research Survey
Current Situation: It has been a drier week in Colquitt County. Rain chances increase the first part of next week. Wet conditions have made field preparation and vegetable production a challenge. Corn planting is just around the corner. The first image below shows the average soil temperature at the 2 inch depth for Feb 24, 2021. The second image illustrates rainfall in inches and number of rainy days from January 1 to February 24 listed below. This information is from Sunbelt Ag Expo location of the UGA Weather Network.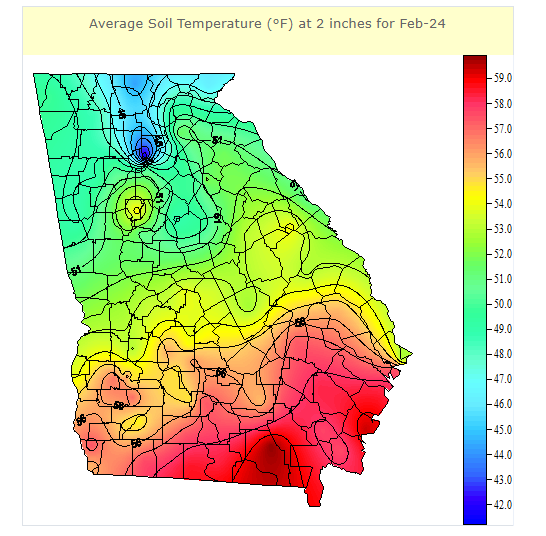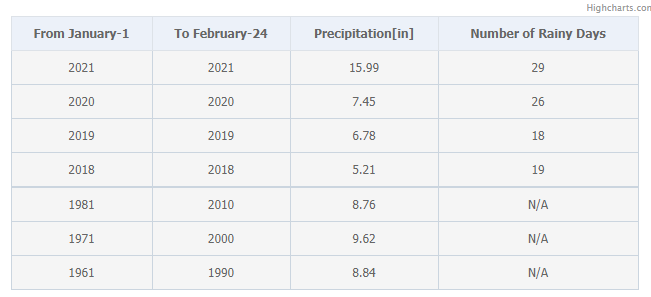 Oat Disease Situation….
Crown rust has been reported in oats in Colquitt County earlier this week. The picture below is from a local oat field that was in the jointing stage of development. Please contact your local county agent about fungicide options.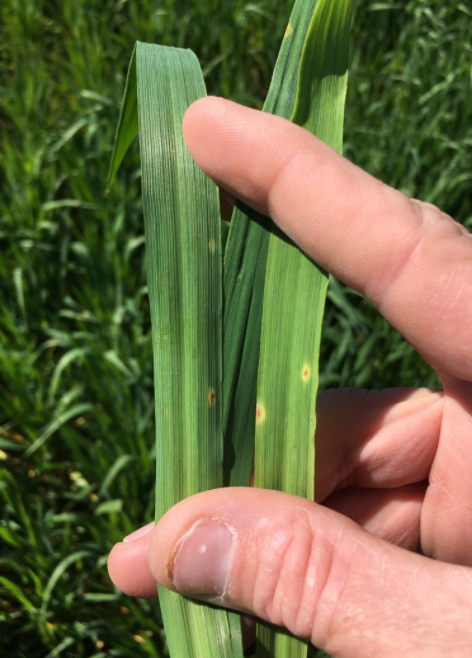 Another disease that has been seen in Colquitt County has been Drechslera/Bipolaris (formely Helminthosporium) leaf spot on oats. According to Dr. Alfredo Martinez, UGA Small Grain Plant Pathologist, this disease is common on oats. The disease usually appear early in the season and it requires coldish weather but ceases later into the season as temperatures warm up and no chemical control is required.
Untreated seed and volunteer plants can be a source of inoculum. It is usually a minor problem in Georgia. The most important practice is to sample soil and maintain adequate levels of fertility. Soil potassium is critical for leaf spot management. Most reported leaf spot cases are directly related to low soil potash. Adequate amounts of nitrogen are also essential for disease management. Crop rotation with non-hosts is recommended, fungicide seed treatment will reduce the disease incidence. Below is an example of Drechslera/Bipolaris (formely Helminthosporium). If you have questions please contact your local county Extension agent.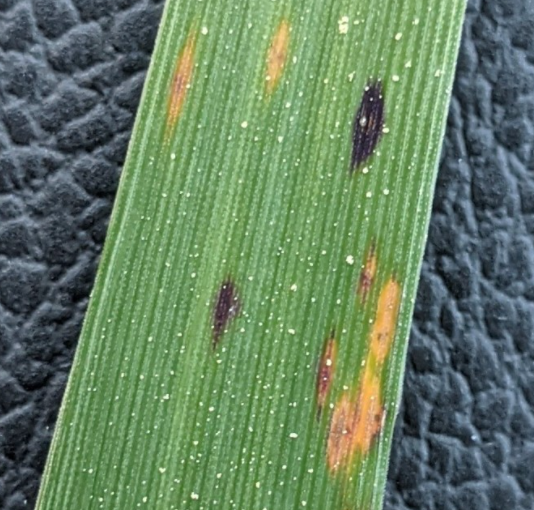 2021 Using Pesticide Wisely Trainings
The 2021 Using Pesticide Wisely Trainings will be offered online by Zoom.  The list of online trainings can be seen HERE.  I will send out more information about in person and watch party type meetings next week.  
2021 Spray Application Equipment and Technology Survey
Dr. Simer Virk and Dr. Eric Prostko have been working on a survey to gather information related to spray application equipment and technology used by growers across the state. The survey is available by using the following link. https://ugeorgia.ca1.qualtrics.com/jfe/form/SV_2s1kVNAkBQl63JQ

New Paraquat Training Requirements: According to the UGA Pesticide Safety Education website, effective December 31, 2020, new regulations mandate that any paraquat products under 120 gallons distributed or sold by paraquat registrants require a closed system and do not allow jar testing. However, dealers and distributors are permitted to continue to sell paraquat products that do not meet the closed-system requirement until their stocks run out, and pesticide applicators may continue to use existing stocks according to the directions on the label of the product in their possession.

NOTE: This does NOT mean you need to retake the training. Your current certification is still valid until 3 years after the date of your training which is printed on your certificate.

What you need to know about EPA's paraquat mitigation decision is outlined in this graphic from EPA but does not include the new regulations effective 31 Dec. 2020. You can access the training course at the EPA Paraquat Dichloride Training for Certified Applicators website or through the eXtension Campus website (you must create an account before you can use this website) for the How To Safely Use and Handle Paraquat-Containing Products course. Both courses are approved by the U.S. EPA. You must complete and pass one of these courses before you will be allowed to buy paraquat-containing products. The training must be retaken every 3 years.
What about using sulfur in peanut fungicide programs?? This has been an increased interest in adding sulfur to fungicide programs for the management of leaf spot.
Some sulfur formulations (generally at a rate of 5 lb) have significantly improved the control of leaf spot when tank-mixed with products such as azoxystrobin, Headline, Umbra, EXCALIA and tebuconazole.
Sulfur formulations at (5 lb/A) to include Microthiol Disperss, Microthiol 80W, Drexel Sulfur 80W, Drexel Suffa 6F, TechnoS 90W, and Accoidal 80 WG, performed similarly when mixed with either azoxystroblin or tebuconazole.
Why seasonal climate forecasts aren't always accurate? By Pam Know
Do you use predictions of seasonal climate to plan your farm work? Or are you frustrated because they don't seem to be very useful? I've been getting a lot of complaints this year about how bad the climate forecast for winter was because what we have seen so far has not matched the predictions in many parts of the country. Let me take a few minutes to explain how they are made and what you can learn from them.
First, let me specify that I am not talking about long-range climate forecasts for 50 years down the road. Nor am I talking about weather forecasts for the next week. I am talking about the forecasts that cover the period from about 15 days to 3 months, which climatologists call the "seasonal to sub-seasonal forecasts". These are the kinds of forecasts that say "Winter is likely to be warmer and drier than normal" or "Get ready for a big warm-up in the next month." They can be useful in planning field work a few weeks ahead, but they come with caveats. READ MORE
How do I fertilize my home pecans. For bearing trees, fertilization is one of the most important practices for bearing trees. To produce a good pecan crop, terminal growth should be six inches each year. In the absence of a leaf analysis or soil test, broadcast four pounds of a complete fertilizer such as 10-10-10 per each inch of trunk diameter (measure 4½ feet above soil level), up to a maximum of 25 lbs. per tree. Ammonium nitrate may also be used at a rate of one lb. per inch of trunk diameter, up to a maximum of eight lbs. per tree. This fertilizer should be applied in mid- to late March.
What about zine? Zinc nutrition is especially important in pecan production. Zinc needs can be determined by taking leaf samples in late July or early August. If you are interested in plant leaf analysis then contact your local county Extension agent. The leaf analysis report will tell you how much zinc to apply. In the absence of a leaf analysis, apply one pound of zinc sulfate to young trees and three to five pounds to large trees each year. A soil pH of 6.0 to 6.5 assures the availability of essential nutrients. If the pH is too low or too high, uptake and use of nutrients can be impaired. Apply lime as suggested in the soil test report to correct low soil pH.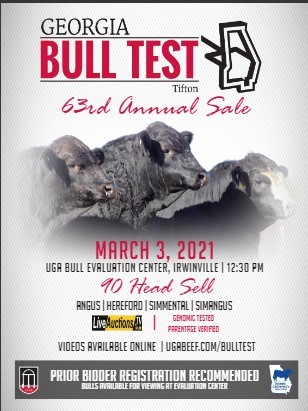 UGA Cover Crop Research Survey
The use of cover crops has a long and rich history. After a drastic decline in their use with the introduction of synthetic fertilizers, their use is once again on the rise as our society has become more environmentally aware. As farmers are having to produce more food, fiber, and fuel with less available farmland for our growing population, it is important to identify the most efficient and sustainable production practices.
By taking this survey, you will help us to understand the current production practices, the costs and benefits, and the general perceptions of cover crop use. The survey will take approximately 30 minutes to complete. Our research will help us to further understand the missing elements (i.e. education, better funding, etc.) that will help increase cover crop adoption and provide for a more sustainable future.
Thank you very much for your participation and please, click on the link to take the survey:
Have a great day,
Jeremy M. Kichler
County Extension Coordinator
Colquitt County