Meteorologists are anxiously watching the latest blast from the Arctic, which is expected to move into the Southeast after a cold frontal passage on Wednesday.  Predicted temperatures on Thursday show that it is likely that many areas of the Southeast will experience record low high temperatures and some record lows may also fall.
A nice tool that will help identify potential record-breaking temperatures is the Southeast Regional Climate Center's Forecast Perspectives tool at https://www.sercc.com/forecast.  You can use this tool to look at predicted forecast values of maximum and minimum temperature up to two days ahead and see how they rank historically.  The map below is for maximum temperatures on Thursday, February 19, and shows that for most of the Southeast, the maximum temperature will be the lowest maximum temperature on record at the included stations.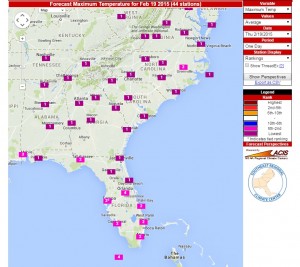 A number of climate sites are posting on their Facebook accounts on this topic.  The Florida Climate Center posted this map of forecast lows for Florida for Friday morning which shows just how cold it is likely to be there.  The freezing temperatures are likely to have a significant impact on crops in the area.