The first few days of November have been more than nine degrees below average for most of the Southeast.  You can visualize this data for yourself (sample current map shown below) at the High Plains Climate Center's current climate summary maps website: https://www.hprcc.unl.edu/maps/current/index.php?action=update_region&region=US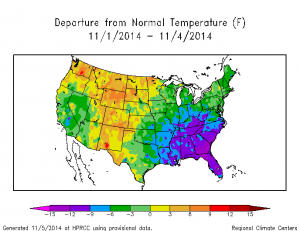 Unfortunately for those who like warm weather, these cold conditions are expected to continue for at least the next couple of weeks.  In part this is due to the influence of transitioning Typhoon Nuri, which is expected to become an extremely strong storm in the Bering Sea as discussed in my previous blog post.  Some additional stories on this unusual storm:
Dr. Jeff Masters' blog on Weather Underground
Forecast models disagree as to how far south the coldest air will reach, but it seems likely that temperatures in the Southeast will be significantly below normal.  The Climate Prediction Center maps for 6-10 days and 8-14 days show a 70 percent or greater chance of below normal temperatures for northern Georgia, Alabama and western parts of South and North Carolina, with lower chances farther south and nearer the coast.  The cold air is also expected to bring drier than usual conditions to most of the Southeast.  In the dry and cold conditions frost is expected to move farther south into the Southeast.