Fall is here and we have had some cooler nights, but good sunshine the last couple of days. Diggers are back in the field in some places and some peanut picking has resumed. Many have been attending the Extension peanut maturity clinics at our locations in the county (Tuesday, Wednesday, and Friday mornings), and we have checked quite a few at the Extension office outside of the clinics. If there are some fields that a grower needs checked, just contact the office or county agent to make sure that someone is available.
Cotton growers are also preparing for harvest. Defoliation of the cotton crop has also started. There are 3 main methods to determine defoliation timing, as shown in the slide below by Dr. Camp Hand, UGA Cotton Agronomist. UGA Extension has defoliation product information in the 2021 Georgia Cotton Production Guide, or contact your local county agent.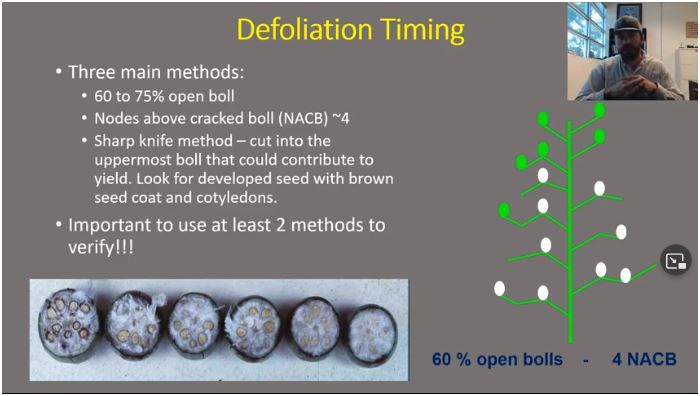 Dr. Hand has developed a video on defoliation considerations for 2021. View the video by clicking the "Play" button below.
If we can be of assistance to you at Worth County Extension, please let us know.