As part of National Groundwater Awareness Week, today we would like to share with you some activities that are designed to help educate about water resources and groundwater.  Some of this information is fun activities through the Georgia 4-H program and some are ways to just have fun learning about groundwater. Today's post is written by Gary L. Hawkins and Kasey Bozeman.
Dessert First today
WELL, some people like to start their meals with dessert. So, for this posting we will do that. We probably should have presented this the other day when we were discussing aquifers, but as a fun activity, we thought it would fit just as WELL today. I am talking about a fun way to learn and teach about aquifers. This is the Edible Aquifer. This activity uses ice, ice cream, and sprite (or a clear soda) to form aquifers. And then there is the straw (or WELL) that we can use to get the GROUNDWATER out of the cup. A copy of the activity can be found on the Water at UGA website. We have used this activity with preschoolers to adults and the result seems to always be the same – Fun learning about and eating aquifers.
WATER – Friends Magazine
The Georgia 4-H program has a Friends Magazine focused on WATER.  In this magazine mainly designed for elementary school aged kids, there is still some good information for all ages on topics such as "how much water is used to make the products we wear and the food we eat".  There is a water cycle fill in the diagram and fill in the state of water game and there is a table that provides information on the 40 Gallon Challenge that lets you calculate the amount of water you use daily.   There is even more in the Friends Magazine for Water.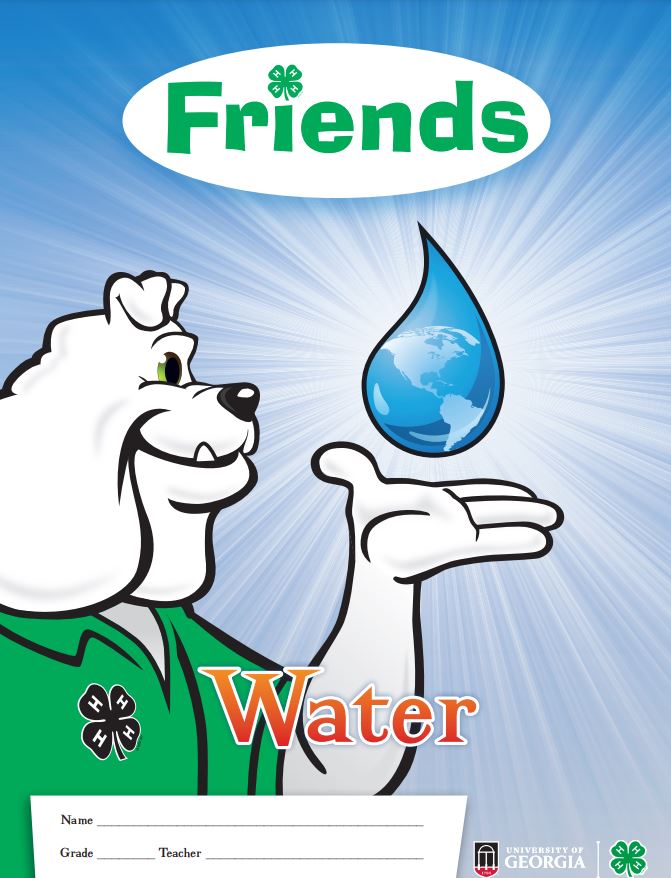 The WATER Cycle
Groundwater is an important part of the Water Cycle. As was mentioned on Monday, groundwater results from water infiltrating into the Earth's surface and forming aquifers. These aquifers are where we get the groundwater for multiple uses. There are many different locations to find Water Cycle games, fill in the diagram, and learn about the water cycle.
One game developed by Kasey Bozeman, Extension 4-H Specialist – Science Programs is the Snowman Water Cycle game. In this game you test your knowledge of the water cycle by filling in the blanks of this interactive game. Try guessing the words related to the water cycle. Correct letters will be displayed and incorrect letters will cause the snowman to melt … hurry!
Besides this game, there are many others that can be found by searching the internet for Water Cycle. Enjoy circling the water cycle.
4-H2O program
In many counties of Georgia and other states there is a program that is called the 4-H2O program. Two of the ones we are familiar with is in Mitchel County Georgia and Whitfield County Georgia. Both programs are focused on educating 4-H youth and adults on water issues from surface water to groundwater and how we use water for urban and agricultural uses. If you have questions about these programs, please contact these UGA County Extension offices.
Today, we wanted to provide you some fun ways to better learn about water and groundwater and even provided a way to build an aquifer that is Edible.
Please join us tomorrow to learn more about groundwater in Georgia.
#UGAWater, #UGAExtension