The following story written by Sonja Stroyls at the Camilla Enterprise is a reprint of activities that occurred at the 2017 4-H2O program conducted by Mitchell County 4-H.
*** *** *** *** ***
What started out in 2008 as a summer activity for Mitchell County 4-H'ers has evolved into an  important environmental learning tool for all the surrounding youth of today.
After surrounding counties expressed interest in participating in activity in 2009, 4-H20 was turned into a district-wide event.
This year upcoming fifth – ninth grade students learned important issues concerning water and water conservation during the camp.
The three-day camp is a collaborative effort coordinated by Mitchell County Extension/4-H and the University of Georgia's Stripling Irrigation Research Park.
This year's camp added a new site at Gin Creek in Colquitt County on day one.
More than 100 campers attended the 4-H20 three-day camp starting at Gin Creek Plantation in Hartsfield, GA on Tuesday, June 13 with guest presenters and speakers including Bonnie McCormick from the Lower Muskogee Tribe speaking on the impact of water for the Muskogee Creek Indians, Melanie Biersmith- Sum of the Parts, Steve Rainey- Aquatic Food Chain, and Eric White from the Georgia Department of Natural Resources – fishing.
The 4-H20 Campers 2nd  day started at the University of Georgia's C.M. Stripling Irrigation Research Park (SIRP) in Camilla, Georgia, on Wednesday, June 14.
At SIRP the presenters were Melanie Biersmith – The Incredible Journey, Dr. Wes Porter – What's Up with Ag Water Use?, Debra Cox (Mitchell County Extension) and Kerri Copello (Fox 31), – Weather & Climate,  Kyle Hamilton (Mitchell County 4-H'er) and Dr. Gary Hawkins (UGA) – Using the sun to move water, Julie Shutters and Rhonda Gordon (Golden Triangle RC&D) – Blue River, and Sylvia Davis (Mitchell County Extension) Stay Cool with Water.
Dr. Wes Porter, UGA Extension irrigation specialist, showed the children an irrigation pivot and talked about water's role in the growth of crops.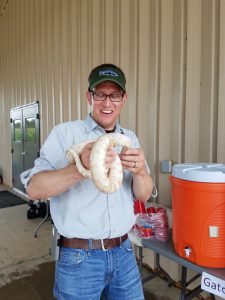 On Wednesday at lunch, the 4-H'ers learned about water's importance to wildlife from Nick Fuhrman (insert picture), an associate professor in UGA's College of Agricultural and Environmental Science. Also known as "Ranger Nick," Fuhrman brought along animals native to Georgia to help him teach the children.
"The camp is all about helping our youth understand the importance of water to our region of the state, why it's important to protect it, conserve it and use it wisely so it will be around for future use," said Calvin Perry, superintendent of the University of Georgia's Stripling Irrigation Research Park. Participants will learn all about water—the importance of conservation, its significance in agriculture and its environmental impact.
"Our main goal is to help kids gain a better understanding of the importance of water in this region, where it is so pivotal to the success of our farmers," said Calvin Perry, SIRP superintendent. "Because of the role agriculture plays in our state, south Georgia is a major user of water. We can all be more conservative and more efficient."
Southwest Georgia has seen dramatic changes in water situations the past few years. Floods and droughts have both been common weather occurrences.
Georgia is stepping up its efforts to do serious water planning. The economic impact surrounding water resources is significant and good quality planning is essential for future economic growth. Although water is typically plentiful in Southwest Georgia, past drought conditions across the state have raised concerns about how we manage and use our water. Since the youth are our future water consumers and water planners; they need to understand the importance of water to all areas of our livelihood including transportation, industry, recreation, and agriculture. In order to help ensure a clean abundant water supply for our future, Mrs. Grogan coordinates a concerted effort by Mitchell County Extension to educate youth on the importance of water usage and conservation. Since 2008, an ongoing emphasis on water and water education.
According to Jennifer Grogan, Mitchell County Extension Coordinator & 4-H Agent, "Youth are our future leaders; it is vital that we take time to teach them the importance of agriculture and the importance of taking care of water, our precious natural resource. We use our 4-H slogan's "Learn by Doing" approach to reinforce what the youth are taught, by their teachers, in school. Hands-on activities practiced during 4-H2O Day Camp, allow our youth to better understand the impact their actions have on water for future generations."
The final day of camp spent with a trip to Water World Water Park in Dothan, Alabama.