Did you know that April 5-11 is World Health Worker Week? This week is set aside to celebrate all of the doctors, nurses, lab technicians, therapists, nursing home workers, and others who help keep us all healthy. These heroes need our support now more than ever. For today's challenge, we encourage each of you to experiment with making your own cloth masks. These masks can be donated to a local nursing home, hospital, doctors office, dentist office, or other location where health care workers are employed.
In Tattnall County, we have been asked to create these masks for our nursing home staff members. If you need details about donating these masks in another area, you may call your local hospitals, doctors offices, or nursing homes to see if they are in need.
There are many different tutorials on the internet for making masks–including two basic masks designs. The CDC website recommends the more rectangular design with pleats as shown below. Many of my friends in healthcare have also expressed that this mask design works better for them than the round\triangular design shown in some tutorials.
Based on my own sewing experience, the tutorial below shows an easy way to make the mask with a limited number of stitches and provides a good amount of detail in the directions. This tutorial also includes an insert option so that a filter material can be added if needed.
One of the key recommendations for making face masks is to use a tight-weave cotton fabric. If you do not have any fabric at home, you can upcycle a clean cotton bed sheet, a cotton tshirt, or other cotton item you may have around the house.
Another challenge is that some places have run out of elastic. Use your engineering skills and creativity to try out one of these alternate options if you don't have the appropriate size elastic:
Elastic headbands
Shoe strings
Colorful ribbon
Trimming elastic bandages into short strips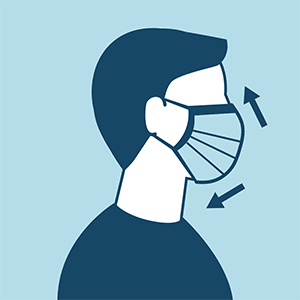 Once you have made your masks, it is time to check them for quality. In order to meet CDC requirements, a cloth face mask should:
fit snugly but comfortably against the side of the face
be secured with ties or ear loops
include multiple layers of fabric
allow for breathing without restriction
be able to be laundered and machine dried without damage or change to shape
Tattnall County 4-H'ers who make masks and would like to donate them locally should contact Mrs. Rebekah (rbowen1@uga.edu) or Mrs. Maegan (maeganfranco@uga.edu) for donation instructions. We would love to see pictures of your homemade masks. Share them with us on social media with the hashtags #HealthHeroes and #Tattnall4H.