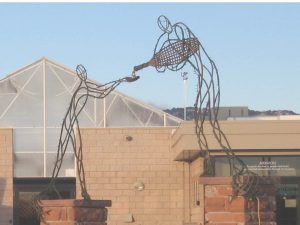 Happy New Year, Georgia Master Gardener Extension Volunteers! Hopefully, this Trellis post finds you well and ready for a brand new gardening season! I can't imagine that it will be long before it is time to sow seeds and tend our plants outdoors. For now, I am working on my indoor plants.
When I wrote my gardening resolutions in 2018, I was focused on specific gardening tasks that I wanted to check off my list. For the most part, I was successful in getting those tasks done. You know as well as I do that they appeared again on last year's list and will appear on this year's list, too. That's the nature of gardening, and we find such pleasure in the repetitive tending of our gardens.
This year's resolutions are rather broad. My goal this year is to share gardening with as many people as I can. It is so much fun to introduce someone to plants for the very first time. To that end, Sarah and I have been working on a pile of materials to share through our social media platforms. We intend to meet these budding plantspeople where they are at and connect them with Extension's network and Master Gardeners here in Georgia. I hope you'll join me along the way in introducing people in your community to plants!
Best wishes for a great 2020!
Sheri