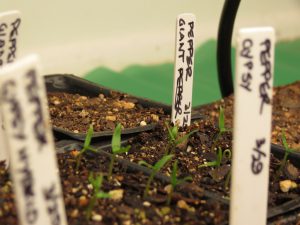 Happy New Year, MGEVs! I hope that you had a healthy holiday season and that you are managing to stay warm. If you are staying inside, checking out all of those tempting catalogs coming your way, you might be making a list of goals for your gardens.
Personally, I have few gardening goals for the year. Probably the biggest, most important New Year's Gardening Resolution for me is to "keep it simple"!! This is my list:
Plant the contorted filbert purchased last fall.
Plant lovely container gardens at home.
Plant lovely container gardens at the Cowart Building (home of the UGA Horticulture Department here in Griffin).
Remulch my beds with pine straw.
Grow enough vegetables for fresh consumption. (At my house, I am responsible for the sugar snap peas, spring and fall broccoli, bush beans, squash, annual herbs, and growing the warm-season vegetable transplants. My husband takes care of the tomatoes, corn, pole beans, pumpkins, and pest control.)
Install a new fence for the vegetable garden.
Build a new raised bed for an asparagus patch.
Locate, purchase, and plant either a Trident maple or a Paperbark maple.
And by the way, I am trying my hand at orchids (it's a competition with my older sister to see whose thumb is greener!). I brought home an orchid from Hawaii last September and have another that has been languishing. They can be extraordinarily beautiful, so I am anxious to make these plants happy!
What are you planning to do this year? Do you have projects for your personal gardens? Does your MGEV project team have goals for a demonstration or community garden? How can UGA Extension support you with those project goals? Let me know by responding in the comment box!