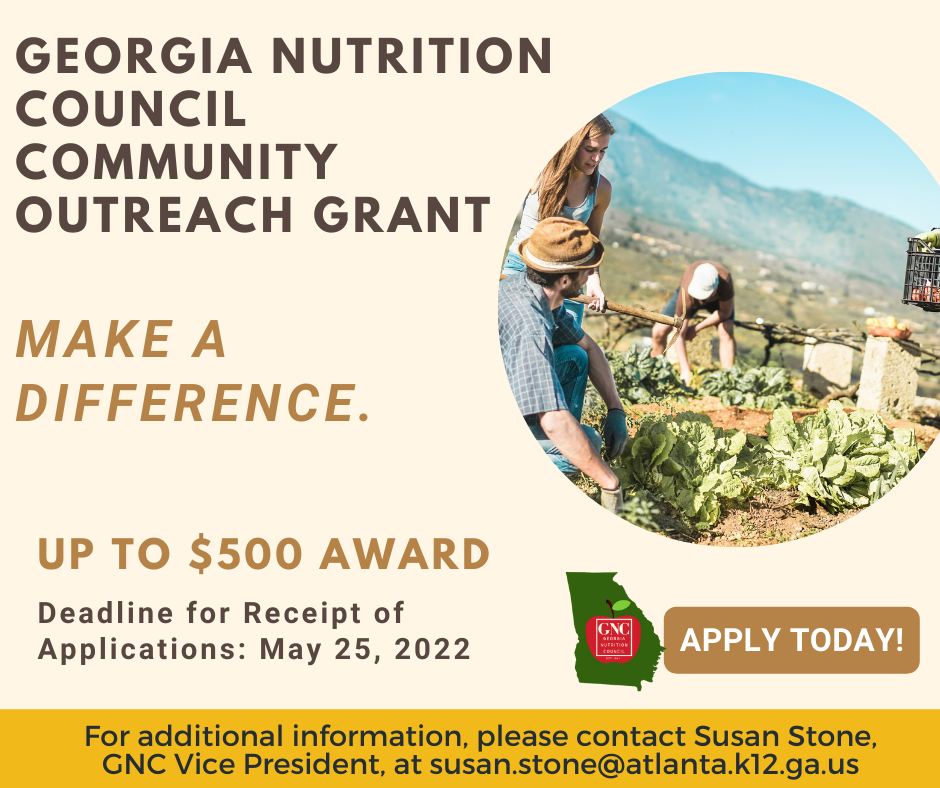 Eligibility
An applicant must be an active professional in the field of nutrition and foods in the
State of Georgia and must have been a dues-paying member of the Georgia
Nutrition Council for the past 3 consecutive years. Full or part-time students as well
as members of the Grant Selection Committee are not eligible to apply. Once
awarded a grant, an individual may not apply again for one year immediately
following their award. Final determination of an applicant's eligibility will be
determined by the Grant Selection Committee in the cooperation with the Georgia
Nutrition Council Executive Board.

Grant Amount
Up to $500.00 will be awarded.
(One grant will be awarded. The committee reserves the right not to award a grant if it feels that
submitted applications do not meet the objectives set forth for this grant).

Directions
Submit your resume or curriculum vitae and a three-page proposal.
Proposal should include: a) cover sheet, b) title of program/project, c) description of the
program/project, d) goals; e) proposed time line, f) evaluation plans, g) proposed
budget, including justification for items, h) potential sources of additional funding.

For blind review, the name of the applicant or their agency/institution should not
appear on any page of the proposal other than the cover sheet. Items that will be considered applicable for funding include development and/or printing costs of educational materials, purchase of relevant supplies and equipment (not to include computer hardware), and defrayment of costs for conducting educational programs.

Application Evaluation
Applications will be evaluated on the program/project's relevancy to one of the
following objectives:
a) to disseminate nutrition information and to publicize available nutrition
education resources through the Georgia Nutrition Council
b) to create an awareness of the nutritional value of and uses for Georgia
agricultural products
c) to provide accurate information to people who are dispensing nutrition
information
d) to sponsor and support public seminars, symposiums, conferences and similar
discussion on food and nutrition issues.
Preference will be given to food and nutrition projects that have the potential for
broad applications. Preference will also be given to proposals for which the
applicant has demonstrated successful completion and dissemination of other
previously funded projects.

Selection Committee
The selection committee will be comprised of three to five Georgia Nutrition
Council members: one being the President-Elect (Chair), one being the Past President, and at least one will be a non-board member. Notice will be given to grantees by May 31, 2022. Incomplete applications will not be reviewed.
Reports:
Awardees MUST submit a written summary report of the project including
outcomes, to the Grant Selection Committee by February 1, 2023.
Awardees MUST present program highlights at the next GNC Annual
Conference (February 2023). No additional funding for travel and
presentation at the conference will be provided.
For additional information, please contact Susan Stone at
susan.stone@atlanta.k12.ga.us
Please send all applications to georgianutritioncouncil@gmail.com