A survey reported online recently by 'Progressive Cattle' asked cattlemen what aspect of their management they would most like to improve. By a wide margin, "Grazing" was identified as the item that benefit from an upgrade. Many producers recognize intuitively how influential grazing management can be on the success of a livestock operation.  Perhaps unfortunately, no one is paid directly for the productivity of pastures, so the incentives for improvement are more remote than attention given to livestock management.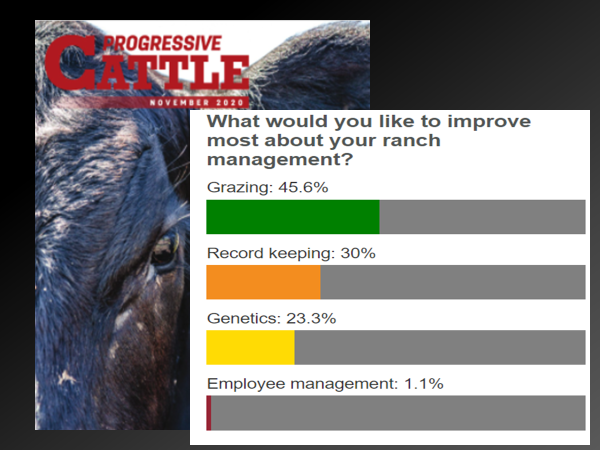 "There's always next year" will always be a true statement, but with the new year  upon us, it's a common practice to resolve to improve an aspect of behavior or activity in the year to come. Recognizing how difficult change is, it would be wise to focus on fewer items so that they can be kept in mind, rather than a long list that will quickly lose attention.
Any planning process benefits from an assessment of current conditions and circumstances. If an inventory of grazing resources is not up to date and easily accessible, completing one might be a very helpful first resolution. A simple pasture/field map with accurate acreage and improvements (fence and water) recorded would be a good first step. Additional information, such as forage species and condition, soil test results, fertilization and weed control records, will further enhance planning efforts.
If improved grazing management is a goal, grazing records will be essential. The critical information is: how many? When? And How long? Those records will allow calculation of a measure of productivity such as animal days per acre.
Another important inventory item is a survey of pasture conditions. A pasture scorecard, such as those available from NRCS can simplify assessing pasture conditions, such as the presence of desirable and undesirable species, ground cover or bare ground and the presence and location of "trouble spots." A scorecard also promotes the repeatability of observations.  Evaluating and improving grazing management requires some measurement that can be duplicated over time in order to identify improvements that are being made or help understand if progress is not occurring.
Another resolution that might be easy to make involves the management of forage when grazing is not involved. Because conserved and supplemental feed is expensive, a reasonable resolution would be to make the grazing season as long as possible. Initiating or improving a rotational grazing plan, increasing the diversity of desirable pasture species or being intentional about plans for stockpiling could all increase the duration of the grazing season and limit winter feed expenditures.
The other aspect of supplying winter feed that would benefit from attention and planning is harvesting, storing and allocating hay (or baleage). Harvesting forage in order to maximize yield is rarely the most cost effective. Waiting for a forage crop to provide the highest yield nearly always leads to greater delay than intended. Delaying cutting date results in more mature forage and decreased nutritional value. The "bottom line" of animal production suffers from inadequate nutrition or is more expensive due to the cost of needed supplemental feed. The only way to know the nutritional value of conserved feed is to sample and analyze. There may be no more certain "return on investment" than using the results of a hay test to plan winter feeding.
If improved grazing and forage production would be beneficial in 2021, consider adopting and implementing one or more of these beneficial practices:
Pasture inventory
Pasture use records
Sticking to a plan for timely hay harvest
Taking and using hay tests
None of these practices will be helpful from if only used once, so the best resolution would include a promise to yourself to maintain helpful practices.
Change is never easy, but can be beneficial. Attitudes are very important to successful change. In the wise words of one of my farmer heroes: "If you think you can or If you think you can't… you're right!"