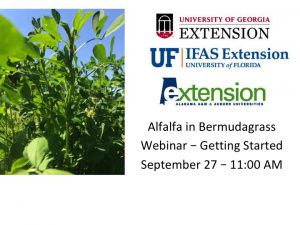 Join us on Thursday, September 27th at 11 a.m. for a Free Webinar!
The webinar will focus on establishment, management, and economics of interseeding alfalfa into bermudagrass and is a great opportunity for producers to learn the tips and tricks on how to successfully integrate alfalfa into your bermudagrass system this fall.  And the best part is…. You don't even have to leave your house! To attend the webinar click here, then click on the "zoom" link to attend.
If you are not able to attend the live webinar session, check back on www.secattleadvisor.com after the webinar to view the archive!
To check out the details on facebook, click here