In this issue: Insect and disease situation in cotton and peanuts, post emerge herbicide applications in cotton and peanut, Southern rust situation in corn, Ascochyta (wet weather blight), TSWV, sore shin, and information from Dr. Eric Prostko. He educates growers about soil-applied glyphosate and peanuts. 
The weather has not cooperated with wheat producers this past week as they try to harvest their crops. The observed precipitation for the last seven days (May 14-21, 2023) is shown below. Rainfall totals ranged from 0.25 to 4 inches across Colquitt County. Cotton and peanut growers are trying to finish planting. Early planted corn fields are reaching the tassel stage of development. Cotton growers are starting to make post emerge herbicide applications.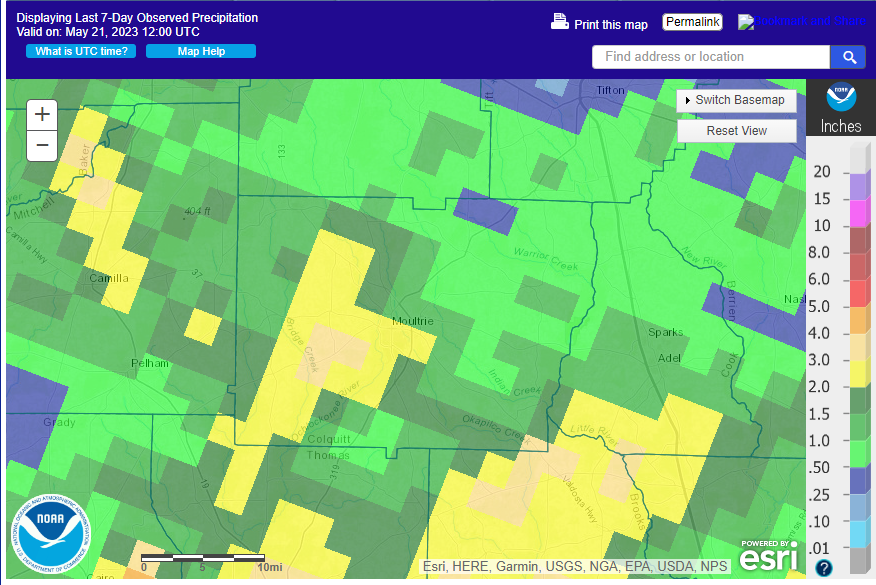 Cotton: The cotton crop ranges from just planted to 5 or 6 leaf. Post emerge applications are starting to occur in some areas of the county. For volunteer peanut control, your most effective treatments include Roundup + Liberty or Roundup + dicamba. Peanuts must be larger than a saucer plate for consistent control by Liberty alone. Sequential Roundup applications are almost needed with the continual emergence of peanuts during the year.
What about post emerge applications?  For most fields, two timely postemergence applications will be needed regardless of the cotton technology planted. POST 1 needs to occur about 15-17 days after the PRE-application and POST 2 should occur 15 to 17 days after POST 1 (before 9-leaf cotton).  Many growers are trying to avoid layby applications, but research has clearly shown these applications are critical to achieving the goal of mitigating additional Palmer amaranth seed being added to the soil-seed bank, which is critical for overall farm sustainability. 

According to the 2023 Georgia Cotton Production Guide, applicators need to be certain to study current requirements on the label regarding training, avoiding inversions, and application cut-control methods. off dates (July 30), buffers (240 ft downwind if no adjacent sensitive crops/plants; 310 ft downwind + 57 ft omnidirectional in ESA-defined counties), wind speeds (3–10 mph), sprayer speeds (ideally less than 10 mph, label has < 15 mph), and boom heights (24″ above target).
Also, review the website for required nozzle types, volatility reduction adjuvants or pH buffering adjuvants, drift reduction adjuvants, and approved tank-mix partners (www.xtendimaxapplicationrequirements.com or www.engeniatankmix.com).
Dual Magnum can be applied over the top of cotton until 100 days before harvest and directed until 80 days of harvest. UGA research suggests making directed applications after the 8-leaf stage to reduce injury potential and improve weed control. Some leaf speckling/burn will likely occur. Avoid heavy dew on cotton plants, saturated soils, and extreme, hot conditions.
Ascochyta (wet weather blight).  I have seen Ascochyta or wet weather blight in a few cotton fields this past week.  This blight is caused by a fungal pathogen that is often seen on young cotton during, you guessed it, wet weather.  The disease generally does not progress further than the first 3 or 4 true leaves and has never needed to be treated.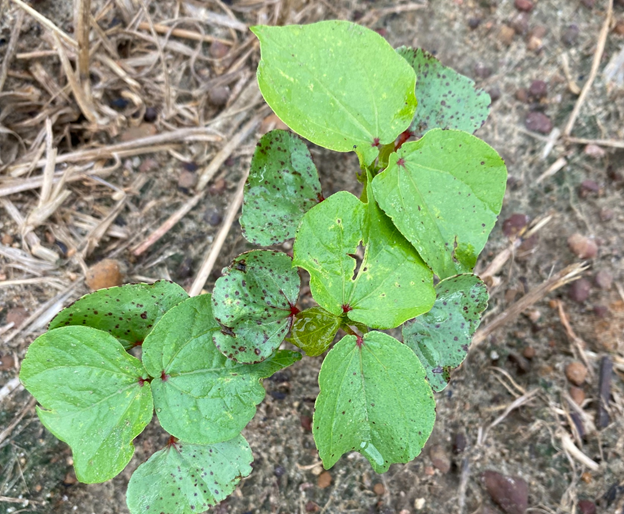 Seedling Disease: Last week I noticed sore-shin in a few fields. Below are classic wilt symptoms associated with sore-shin or seedling disease caused by the fungal pathogen Rhizoctonia solani. This disease is very common in cotton and can result in significant stand losses. It is most problematic in cooler and wetter soils, but it can also be a problem in warmer and wetter soils. The risk is very high when there is debris from previous crops—peanuts, cotton, soybeans, and vegetables—in the soil around the planted cotton seed and developing seedling.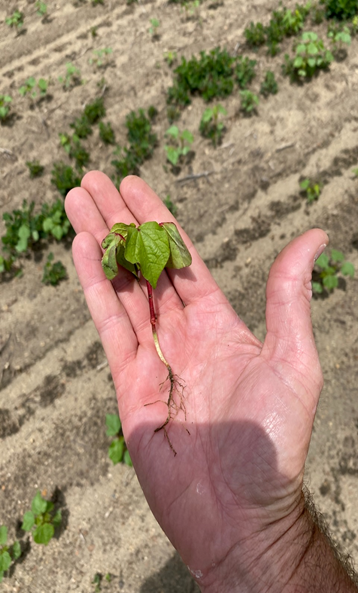 The picture below shows the classic lesion that girdles the seedling just below the soil line. The best management strategies for this are to: a) plant in warmer rather than cooler soils; b) use a good seed treatment; and c) perhaps apply azoxystrobin in-furrow. After you close the furrow, there is nothing to do other than consider replanting if the stand loss is severe enough.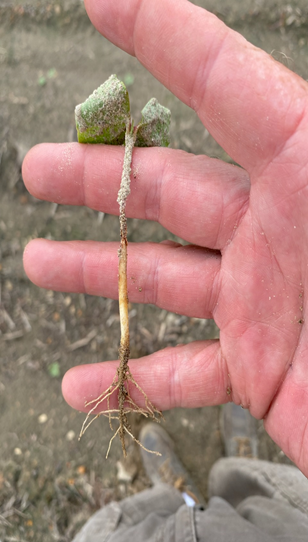 What about the thrip situation in cotton? I have seen low thrip pressure and some fields that require foliar treatment for thrips. It depends on what was used at planting. Apply when 2–3 thrips per plant are counted and immatures are present. Expect higher thrips populations on early-planted cotton. Seedlings are most susceptible to thrips during the early growth stages; economic damage rarely occurs once seedlings reach the 4-leaf stage and are growing rapidly. Thrips injury is more severe when seedlings are not growing rapidly (i.e., stress from cool temperatures or PRE herbicides). Rapidly growing seedlings can better tolerate thrips feeding. In the picture on the left, the field was treated with 5 lbs of aldicarb at planting.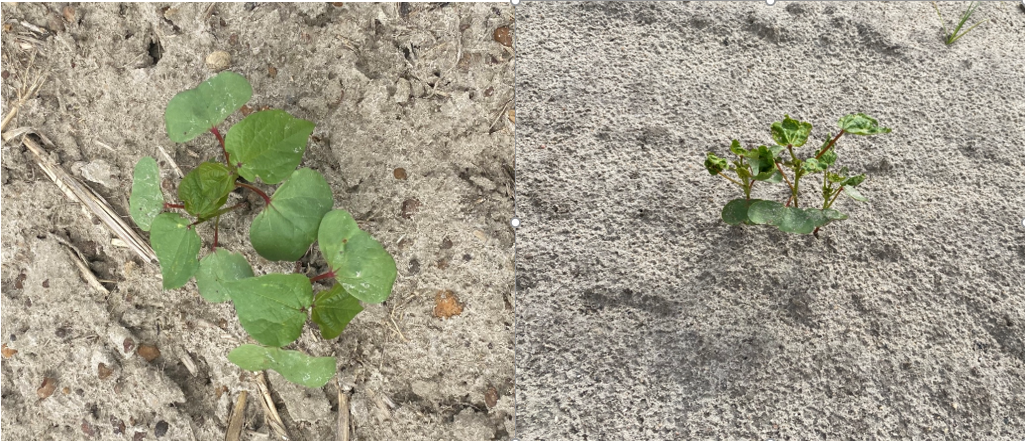 Peanuts: Growers are starting to see the light at the end of the tunnel for this peanut planting season. The picture below is an example of tomato spotted wilt I found in April planted peanuts last week. So I asked Dr. Bob; the grower used Thimet and still has tomato spotted wilt. He used Peanutrx.org and still has tomato spotted wilt. Using Thimet and Peanut Rx does not eliminate tomato spotted wilt; it just makes it possible to grow peanuts profitably.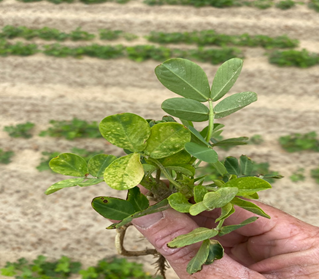 Aspergillus crown rot is shown below. Please note the dark, sooty sporulation at the site of the lesion. Seed treatments (Ranconna or Trebuset), good-quality seed, and irrigation during hot and dry periods to cool the soil help fight this disease. Velum is also good against it if you are using it.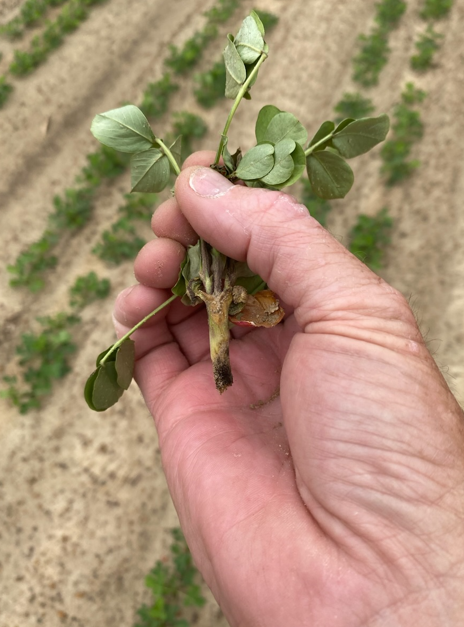 What about peanut cracking sprays? As peanut planting concludes, cracking spray questions will start coming in.  Generally, peanuts must be kept weed free from 4 to 6 weeks after emergence to obtain optimum yields depending on the weed.  Weed emergence after this time will not reduce peanut pod yields but could influence harvest efficiency.  Below are comments from Dr. Eric Prostko, UGA Weed Scientist on peanut cracking sprays.
1) If the grower wants to use the 3 lb/gal formulation of paraquat (i.e. Helmquat or Gramoxone 3SL), the normal application rate in these tank mixtures is 8 oz/A (0.1875 lb ai/A).
2) If a grower wants to use Basagran 4SL (bentazon) instead of Storm 4SL (bentazon + acifluorfen), I would suggest using 8 oz/A of Basagran 4SL.
3) If a grower wants to make his own Storm, I would suggest the combination of Ultra Blazer 2SL @ 16 oz/A + Basagran 4SL @ 8 oz/A.
4) I am not a huge fan of using paraquat + Dual Magnum or any other Group 15 herbicide without some Basagran or Storm to cool it down activity on the peanut plant.
5) No adjuvants are needed when Dual Magnum or Outlook are used (i.e. oil-based formulations) but NIS @ 0.25% v/v (1 qt/100 gallons) is suggested when using Anthem Flex, Warrant, or Zidua.
6) I would prefer peanut cracking sprays to be applied in 15 GPA and tractor speeds of 10 MPH or less to improve spray coverage and reduce the production of dust (which can greatly reduce paraquat efficacy). Currently, in some areas of the county dust will not be an issue.
7) Given the option of using either an AIXR or TTI spray tip, I would prefer the AIXR tip.
8) If growers use higher rates of paraquat and/or delay paraquat applications past 28 days after cracking (DAC), the risk for yield loss resulting from paraquat injury is increased. Recent results from a 2018 weed-free field trial indicated that paraquat treatments applied ~35 DAC resulted in a 5.5% peanut yield reduction.
   Corn: A few earlier planted corn fields approach tassel in Colquitt County. To date, no southern rust has been found in the state of Georgia, just a couple reports of common rust. A few fungicide applications have been made to some area fields.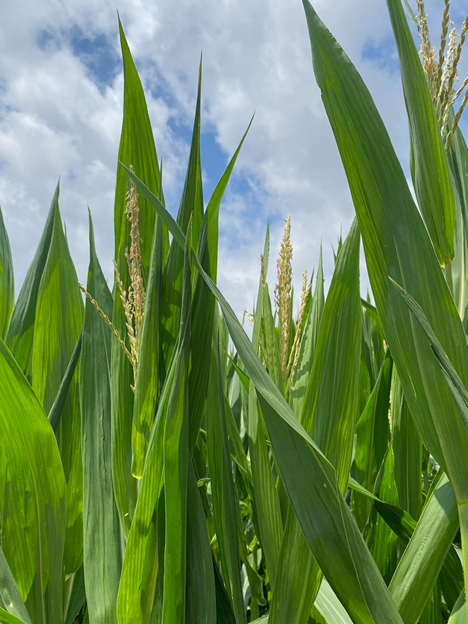 A little more information on common (and southern) rust below from Dr. Bob Kemerait:
1. Common rust is NOT a problem on our field corn.
2. Southern rust has NOT been found yet in Georgia in 2023, but southern rust is a BIG deal when it reappears in our state. Current conditions- some of the corn crop approaching tasseling, warm with scattered showers with some storms moving up from Florida, are favorable for appearance of southern corn rust.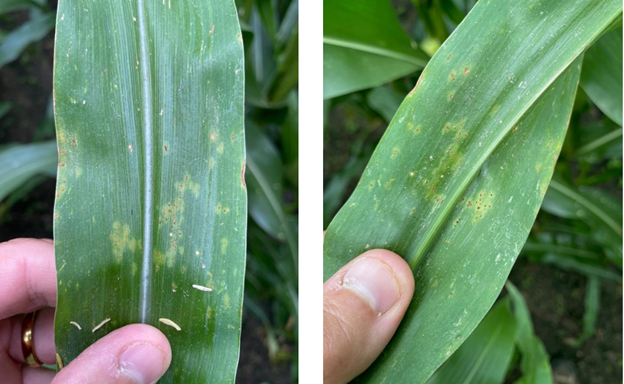 3. Pustules of common rust, as seen in the first two pictures are generally a) cinnamon brown in color, b) appear most frequently on lower, older leaves, and c) pustules can be found on the top and the bottom of the leaves.
4. Pustules of southern corn rust (not pictured) are a) generally yellow-orange in color, b) appear from mid-canopy to the top of the plant, c) pustules are found on the top of the leaves only.
5. Spores from common rust are generally round, dark orange, thicker walled, and "fish-eyed" in appearance. Spores of southern corn rust are thinner walled and more elliptical in appearance.
What about stink bug management in corn? I am glad you asked. In fields I have visited over the last week stinkbug populations have been low. Please treat during the ear elongation / vegetative tassel stage (stage V12 to VT) if 1 stink bug per 8 plants is present. During silking/pollination to blister stages (R1 – R2), stink bugs feed through the husk and damage individual kernels. Control is warranted if populations reach 1 bug per 4 plants. Use pyrethroid insecticides if southern green and green stink bugs are prevalent. If brown stink bugs are prevalent, a high rate of bifenthrin will provide about 75-90% control.
I received a few questions recently about the use of glyphosate prior to planting or shortly after planting peanuts. Many of you have remembered (surprisingly!) what Dr. Culpepper has said about the potential residual effects of higher rates of glyphosate on crops such as transplanted squash, broccoli, and collards. Despite what most of us learned in school many years ago, glyphosate does have soil residual properties but it all depends upon the crop and the application rate. Fortunately, peanut is not a crop that is overly sensitive to glyphosate residues. In 2020, I conducted a field study to prove this point. In this study, I applied Roundup PowerMax II 5.5SL at rates ranging from 32 oz/A to 160 oz/A. Applications were made preplant (6 DBP) or preemergence (1 DAP). Results indicated that glyphosate had no effect on peanut density, height, width, or yield. I do not think that a grower should ever use a 160 oz/A rate (5X) but it does prove a point.
Thank you for your time and have a great week..
Jeremy M. Kichler
County Extension Coordinator — Colquitt County.
The University of Georgia Cooperative Extension does not endorse or guarantee the performance of any products mentioned in this update.