Deadline for the Southeastern Hay Contest is Fast Approaching.
The deadline for the Southeastern Hay Contest is fast approaching. Entries must be POSTMARKED by 9/1/22. As always, the complete rules and entry form are available on our website (www.sehaycontest.com). Winners will be recognized at the Sunbelt Ag Expo in October and it would be great to have a local winner.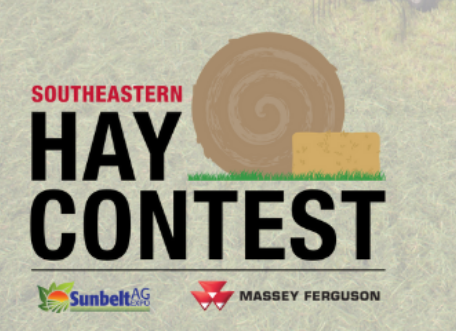 It has been another interesting week in Colquitt County agriculture. According to the CoCoRaHS website rainfall totals have been variable around the county this week. Due to the rainfall patterns, common questions from growers, consultants, and retailers were about peanut disease control and boll rot in cotton. The corn harvest is still in full swing around the county, but the afternoon rain has made it challenging.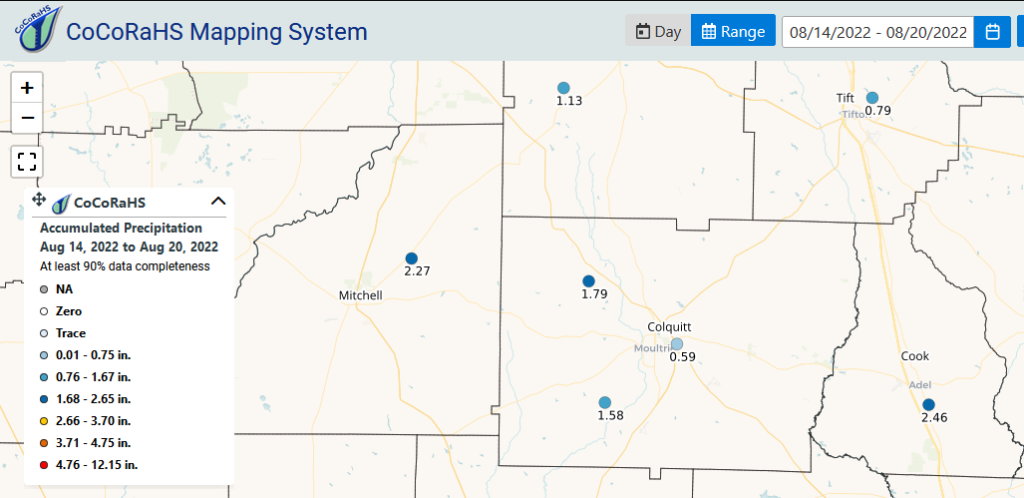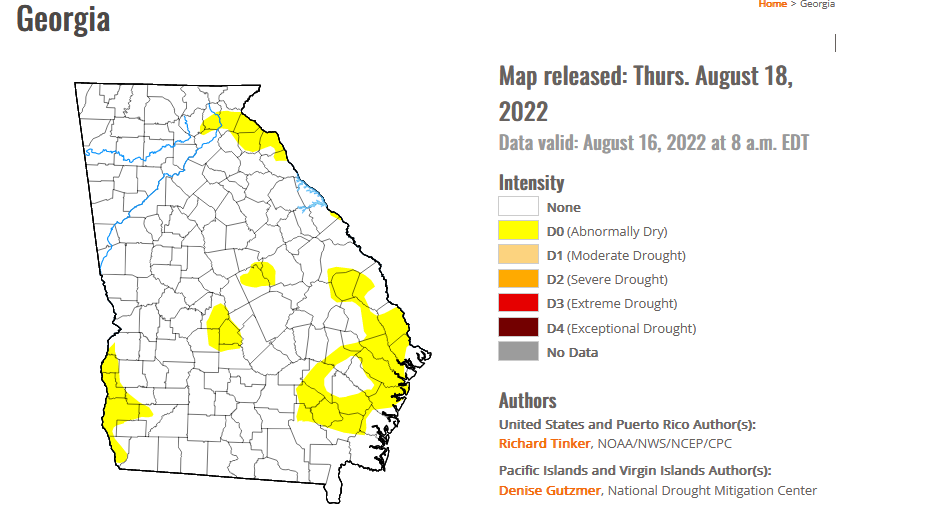 Cotton: Boll rot has been the topic of concern this week. Boll rot Is a very difficult problem and there is a lot of it around. This is because current conditions- high humidity, sporadic rainfall and irrigation, thick canopy of leaves, all favor the rots. Dr. Bob provides the follow comments on the boll rot situation below.
Boll rots are caused by a complex of fungal pathogens and also we have bacterial boll rot likely present as well. Anything, such as a stinkbug, that creates a wound in the boll may also allow entry of a host of secondary pathogens. The immature developing fiber within the boll is like cotton candy to the pathogens and rot occurs quickly.
Fungicides, even broad-spectrum fungicides, have not been effective in managing boll rot largely because of problems with a) coverage and b) timing of application. Boll rot is usually most severe in the lower bolls because they have been there the longest (exposure), are in an area with prolonged wetness and humidity, and are easily accessible to rain splash for spores from the soil. There is very little chance that a fungicide applied to the cotton plant will provide the coverage and protection needed to manage boll rot.
The bottom line for me on boll rot for me
1. Use of fungicides is unlikely to help in management of boll rot, but will add expense to a program.
2. Managing stinkbugs will help to reduce certain types of boll rot.
3. Anything that increases airflow in the canopy can reduce humidity and leaf wetness periods- this may help in reducing risk to boll rot.
White fly update.. Dr. Phillip Roberts, UGA Cotton Entomologist, does a weekly poll of county agents in cotton producing counties about the level of whitefly pressure in the crop. The first illustration was done on August 12, 2022 and the second illustration was completed on August 19, 2022.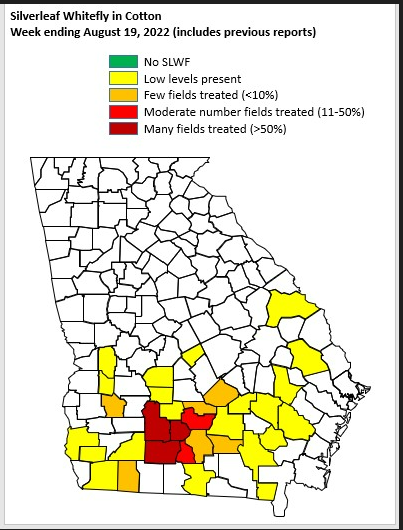 Sticky traps are also being monitored in Colquitt, Cook, and Tift Counties for silverleaf whitefly (SLWF). Phillip Roberts provided the slide below, which shows SWLF captured on sticky cards from 2022, 2021 and 2022. SLWF populations has doubled over the last couple of weeks and hopefully nearing a peak. If you have questions about managing whitefly in cotton please contact your local county Extension agent.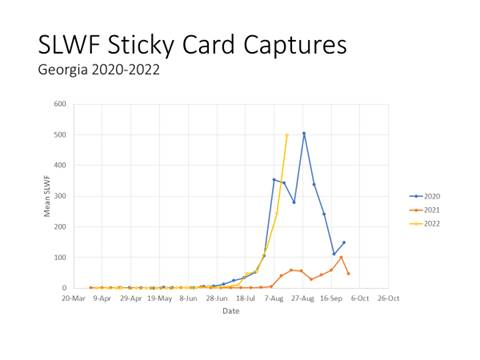 Mr. Kichler, What is the deal with the wind socks and flags in cotton fields around the county?
I am glad you ask. Collectively we are working on the "National Predictive Modeling Tool Initiative (NPMTI) and one location is in Colquitt County. We will collect airborne spores to validate models and demonstrate the utility of pathogen sampling in a commercial grower situation. We are collecting spores through both tall passive air sampler (there is a cassette in the windsock) and in an active air sampler that is run by solar power and is pulling air in through a cassette at all times. We installed air samplers at two opposing locations (1 downwind and 1 upwind) in two commercial cotton fields in each of 6 collaborator states. Dr. Bob makes a visit to this site every week and changes the Sampler cassettes. All cassettes from all sites will be processed for quantification of Target Spot (Corynespora cassiicola). All samples from six sites (UF, UGA, Auburn, LSU, MSU, Clemson) will be processed for Areolate Mildew (Ramulariopsis gossypii). Hourly weather data and GIS data on field site, soil type, nearby crop usage will be provided by our data aggregator. If you would like more information please go to this website.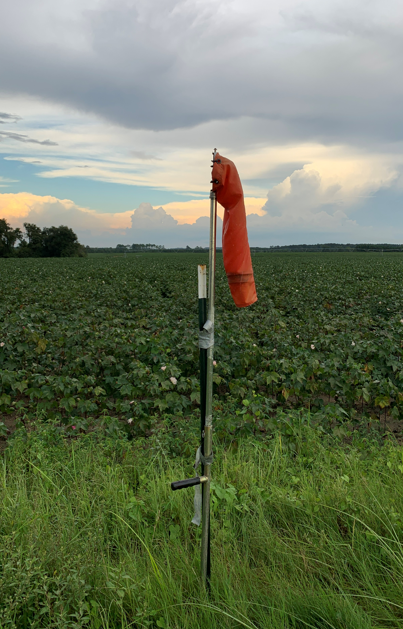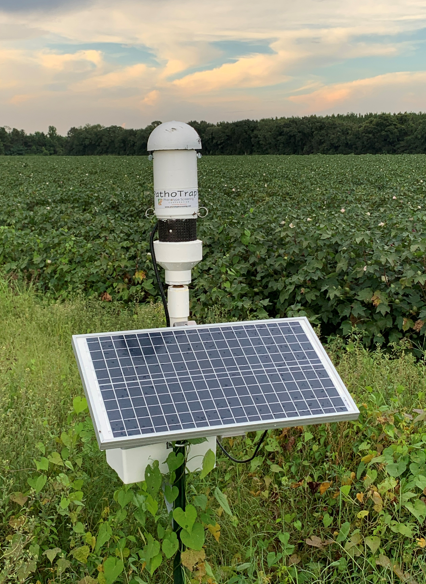 The next project is part of a regional effort called Evaluating Seasonal Population Dynamics and Spatial Distribution of Cotton Aphid in Commercial Cotton Fields. Ten fields in eight counties were monitored in this project in Georiga. We have established this project in two fields in Colquitt County and Dr. Phillip Roberts, UGA Cotton Entomologist, monitors for aphid populations weekly.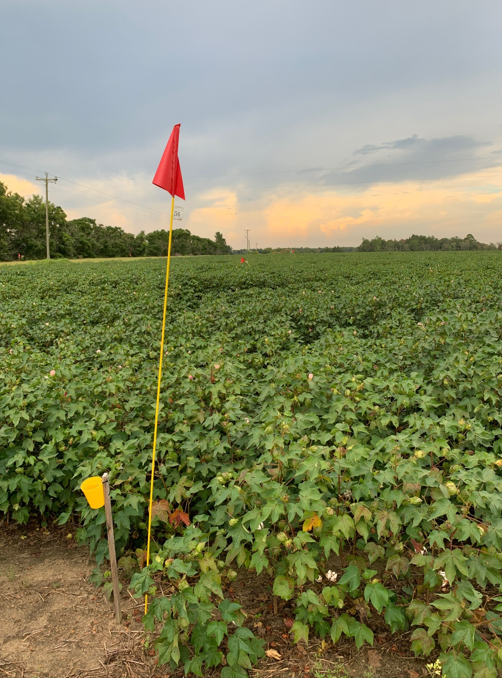 Small Grain Varieties Recommended for 2022 by UGA
Here's the new list.
Go to the UGA Variety testing website for yield and more info. https://swvt.uga.edu/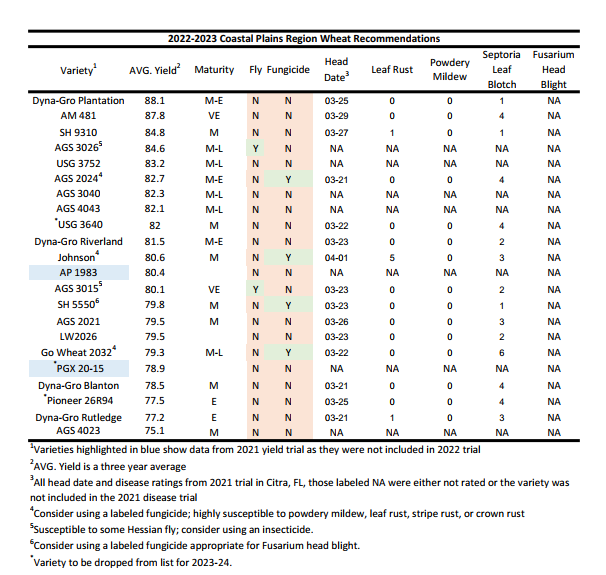 A pdf of the document above is HERE.
Mr. Kichler, is there a threshold for SIlverleaf Whitefly in soybeans? Thanks for asking this question. Silverleaf whitefly is difficult to control with insecticides. Early detection and conservation of natural controls are important. Apply when 50 percent of fully expanded trifoliates are infested with immatures.
Late and ultra late planted soybeans are at greatest risk of whitefly infestations. Immatures typically infest the lower trifoliates and move up the plant as the season progresses.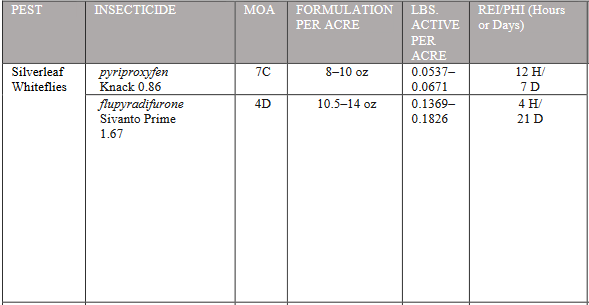 Corn Plots — We harvesting corn plots this week at the Sunbelt Ag Expo. These plots would not be possible without the support of Bayer Crop Science, Local Seed, NK Seeds, Green Point Ag, DynaGro, Pioneer, Syngenta, FMC, Sunbelt Ag Expo, Cody Mitchel (Sunbelt Expo Farm Manager), and Cannon Farms. Hopefully, we can harvest the last on farm corn variety trial this week and results will be shared.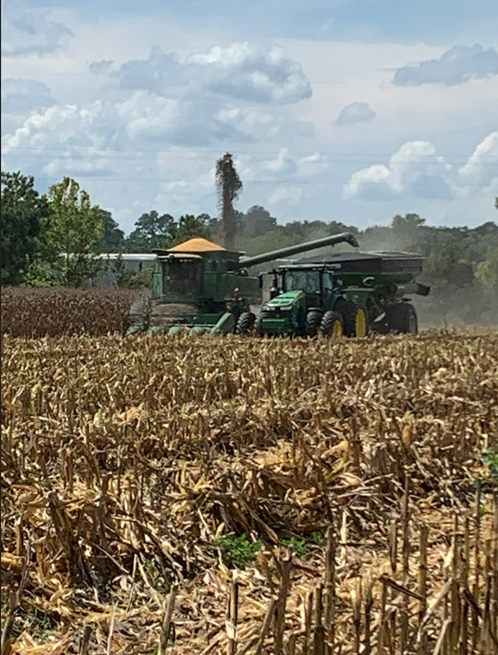 Cotton/Peanut Research Day
The GA Cotton Commission, GA Peanut Commission and UGA Ext. Cotton and Peanut Teams, will cosponsor a joint research field day on Wed. Sept. 7, 2022, in Tifton, Georgia. The field day will start at 8:00 a.m. at the Tifton Campus Conference Center (TCCC) in the North Parking Lot. After a brief welcome, the tours will begin. Attendees will return to the UGA Tifton Campus Conference Center for lunch and a short program. The field day is a free event, but you're encouraged to RSVP to Ashley Golden at ashley.golden@uga.edu or calling 229-386-3366 to provide an accurate count for lunch. To find out more: go to: http://www.georgiacottoncommission.org or www.gapeanuts.com.