With Tropical Storm Dorian strengthening in the Atlantic Ocean and possibly headed for the Southeast over Labor Day weekend, now is a great time to review what the National Hurricane Center's "cone of uncertainty" means so that you can take appropriate actions if the cone approaches your area. Note that you do NOT need to be in the cone to see impacts from the storm! Here is a great refresher from hurricane specialist Brian McNoldy at https://bmcnoldy.blogspot.com/2019/05/cone-of-uncertainty-update-and-refresher.html.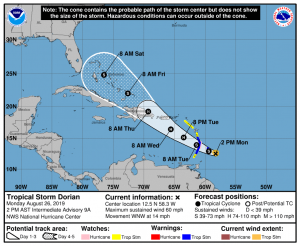 Here are some key points:
The cone does not tell you anything about where impacts will be experienced.  Even for a perfect down-the-middle track forecast, impacts such as strong wind, heavy rain, storm surge, and tornadoes will extend beyond the cone.
The cone does not tell you anything about the size of the storm.  Regardless of how strong they are, hurricanes come in a wide range of sizes.  Recently, NHC has added the observed size of the wind field to their cone graphics to help illustrate this (see the Irma and Harvey examples above… the orange and red shading indicates the extent of tropical storm and hurricane force winds at the time the forecast was issued).
The cone does not tell you anything about the actual uncertainty associated with the forecast. Since the size of the cone is fixed, it cannot become more narrow or broad to accommodate a more or less predictable environment.
Nothing magically happens at the edge of the cone. If a hurricane is approaching and you are scrutinizing each new forecast to see if you are inside the cone or not, you are missing the point of it.  It is arbitrarily chosen to be the 67% historical probability threshold… a 75% probability cone would be larger, and a 50% probability cone would be smaller.
If you use the cone graphics from NHC, there is some information about intensity provided. At each forecast point, there is a letter written inside the black dot corresponding to a general intensity range: D (tropical depression), S (tropical storm), H (hurricane), and M (major hurricane (Category 3+)).  But keep in mind that there is uncertainty associated with the intensity forecasts too!